This award rewards excellence in technical innovation, application, and achievement innovation in joinery product manufacture and design. The award recognises innovation in design and technical excellence for a specific product, rather than a project. The 2018 Award is sponsored by Teknos.
Entries will be judged against any of the following criteria:
• Innovation – a product that helps to showcase or extend the market for wood
• Design – Overcoming particular technical design difficulties or exploiting new concepts to produce the desired joinery solution(s)
• Excellence & Achievement – Evidence that the company has excelled in their technical application to reach a solution that exceeds the usual requirements and/or expectations of joinery product(s)
The 2017 British Woodworking Federation Awards winners were announced at the BWF Annual Dinner & Awards which took place on Friday 24th November at the fantastic Drapers' Hall, London. Here you can read about the fantastic winning entries and view photos of the event.
**The 2018 Product Design In Wood award (sponsored by Teknos) is now open for entries. Entry is free and open to all, including non-members of the BWF so long as they are from the UK joinery and woodworking sector. The deadline for entries is 5pm on Friday 6th July 2018**
Download the entry form and enter now!
Previous winners
2017: Morland for their ABS Edge Banded Melamine Faced FD30 Fire Doors
The team at Morland, based in Powys, Wales, were recognised for the design, innovation and technical excellence on their ABS Edge Banded Melamine Faced FD30 Fire Doors, beating two other hopefuls shortlisted in the category (picture shows Morland commercial director Andrew Warren -centre - receiving the 2017 award). The fire door was praised by judges for combining high-end quality with mass market budgets.

2016: Howdens Joinery & Norma Doors for their Quick Fit Internal Door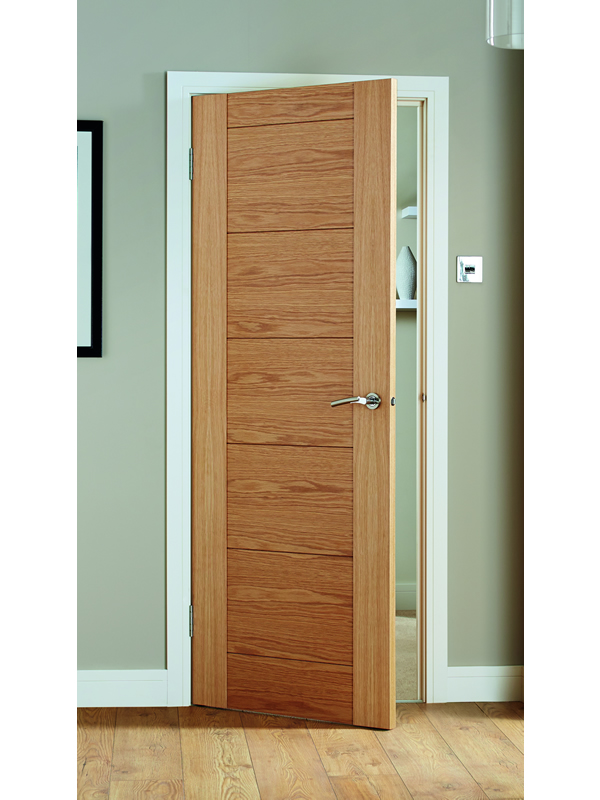 The winner of the 2016 Project Design in Wood Award was the Joint entry from Howdens Joinery & Norma Doors for their Quick Fit Internal Door (pictured). The product has halved the time taken to fit a door and may have changed how all doors will be fitted in the future.
Instead of trimming the door down to size in the traditional way the Quick Fit Door can be reduced in width by moving the stiles in and out to the desired size then securing with screws top and bottom. The fixings are carefully positioned to ensure no conflict when installing the door furniture, simply sliding in and out of the centre panel.