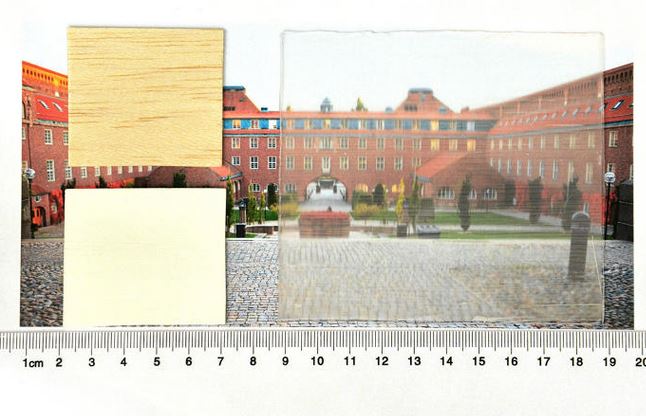 It was the 1st April 2016 and when a bright spark on twitter sent me a link flagging up the concept of "see through wooden glass", I smiled and started to pen a witty response - I am no April Fool.
Then the materials engineer in me kicked in and thankfully before hitting send I did a quick fact check and it is indeed 'a thing'. I had a little read, fascinating stuff, retweeted it and then got back to the day job of fighting the good fight for our members. Interesting, but some way off before it is of any real benefit.
Roll on three months and it was my 11 year old daughter who showed me that in 2016 I was indeed an April Fool. Not because I was the butt of some elaborate hoax (transparent wood really does exist), but because on April 1st I didn't stop to appreciate the magic of science and had failed to see at that point in time how the story of transparent wood would capture the imagination of an 11 year old. A key part of what we (BWF) do is to inspire people to want to work with wood, work in our industry and present a future to stakeholders that includes a vibrant wood products industry in the UK. It took the wide eyed wonder of an 11 year old to remind me that we must leap on opportunities such as this to promote innovation where it exists. Our industry is constantly innovating in product design, in material evolution, in coatings and in ancillaries, taking products often taken for granted and improving them - we are a 21st Century industry and stories like transparent wood, catch the eye. My 11 year old had read about our industry, the timber industry, in First News (a newspaper for kids) and it had caught her eye and she wanted to know more about what I did and how we might use the material - we learned together on this one!
An article in Wired (and this is not a publication we see alot of timber content in) informs us that a team from the KTH Royal Instutute of Technology in Stockholm have created what they describe as "transparent wood", a type of veneer in which a component of the cell walls is chemically stripped". "When the lignin is removed, the wood becomes beautifully white," said Lars Berglund, who lead the research. "But because wood isn't not naturally transparent, we achieve that effect with some nanoscale tailoring." After the cell walls are stripped, a transparent polymer is inserted into the wood, and "the optical properties of the two are matched".
The article then goes on to suggest that the material could be used to "glaze" privacy windows, but a bigger market could be wooden solar panels. It concludes with the strong pro-timber message "It's attractive that the material comes from renewable sources. It also offers excellent mechanical properties, including strength, toughness, low density and low thermal conductivity."
We all need to be more alert to opportunities such as this and do more to highlight this kind of development so that others stop and see our (or in the case of transparent, don't see our, but you get the drift) products. And find other opportunities to stun people with the magic of wood - you should have seen my daughter's face when I went on to tell her you could 3D print elephants out of wood (I promise you that link is worth a click)
To learn more about innovations in transparent wood you can read the wired article here and get a bit of insight into how the architectural press are viewing the innovation here. The full detailed scientific paper on how transparent wood works is available here.
Tweet it, share it, tell people about it - wood is a 21st Century material.
Iain McIlwee FIMMM, CEO, British Woodworking Federation and a bit of an April Fool!