A structured process for business owners to identify the most likely or damaging risks in their joinery manufacturing and woodworking firms has been launched by the British Woodworking Federation (BWF).
The first part of a suite of new tools and resources currently being developed for BWF members, the BWF's Risk Register lists a full range of potential risks relating to people, processes, equipment, environment, property, regulatory compliance, corporate reputation, finance and other areas of business.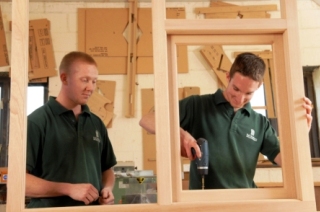 Through using the tool, a register of risks can be created very quickly and an assessment made about the likely severity and probability of each risk. Any unacceptable high risk issues can then be acted on immediately, and longer-term mitigation strategies developed for anything classified as medium risk.
The risk matrix was launched at the BWF's members' day conference by Jon Gorf, the BWF's technical consultant, and Jon Fox, regional risk manager at Towergate Insurance.
The significance of the event was reinforced by Jon Gorf's openness about the "perfect storm" of unforeseen risks which drove his own bespoke joinery business into closure earlier this year.
Jon Gorf said:
"At Parker Joinery we saw first-hand the impact of a combination of unexpected issues which left the business fatally wounded. Through the BWF I can now help to protect other joinery businesses and their managers by providing a fresh pair of eyes on their own business risk, and we can ensure BWF members are in a much stronger position to face the times of change ahead."
Ian McIlwee, chief executive of the BWF, added:
"There are many risks which are an unescapable part of running a woodworking and joinery manufacturing business. But what you can measure you can manage. So we are urging business owners to make use of the full range of resources that we provide, including our technical and legal helplines, risk assessment services, insurance and business support. Every joinery business can benefit from this help."

BWF members can access the risk matrix within the BWF's General Business Support Publications.

Thinking of becoming part of the British Woodworking Federation? Use this quick response form to provide us with some contact details. We will send you an email to confirm your interest and then one of our experienced membership team will be in touch to complete the membership process.