A deeply moving and emotional tribute was made to the late Michael Lee, former membership director of the British Woodworking Federation (BWF) at this year's Trade Association Forum Best Practice Awards.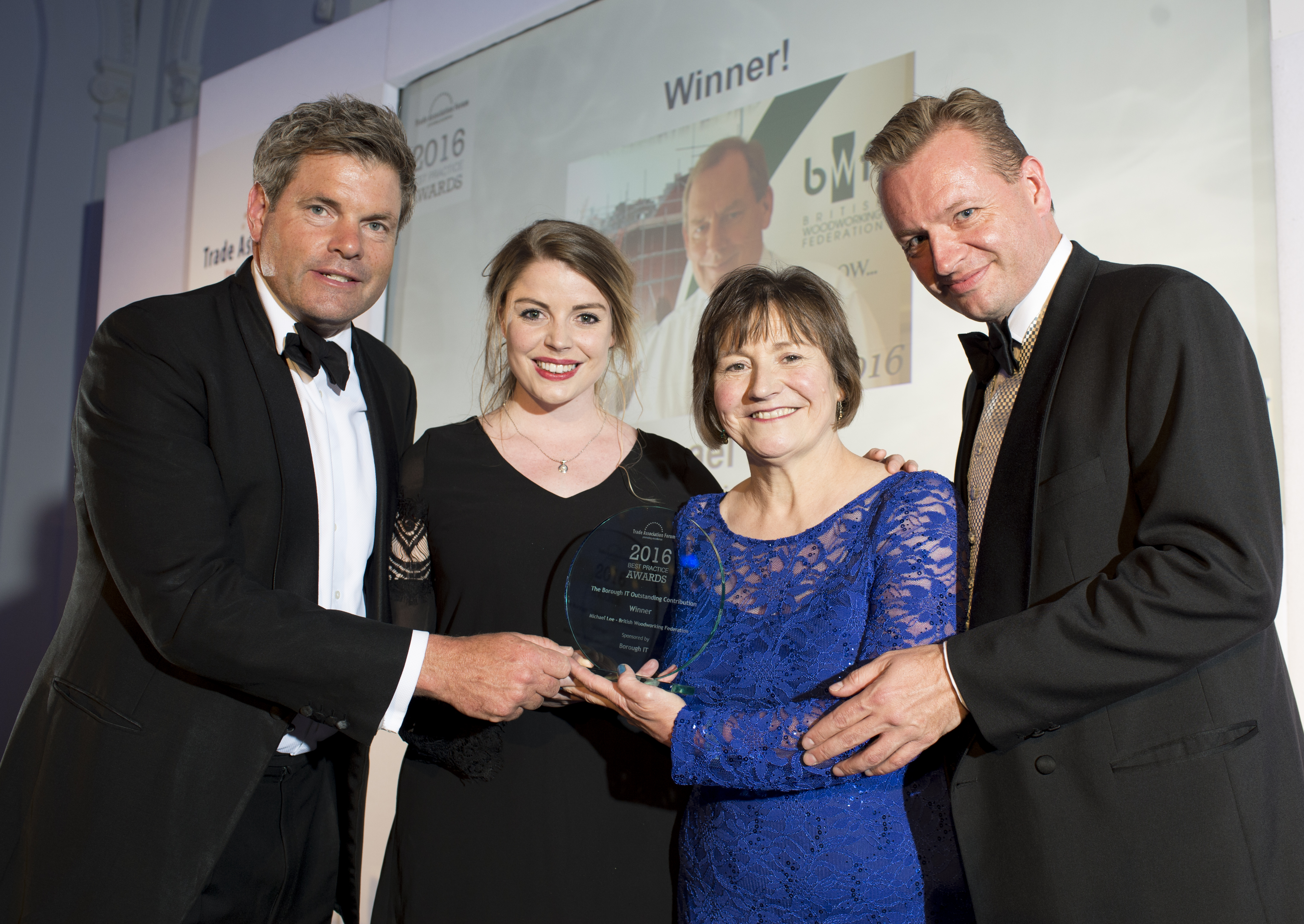 Michael passed away earlier this year but was posthumously awarded the Borough IT Outstanding Contribution Award for his work at the BWF. The award was collected by his widow, Irene, and daughter Naomi at the awards ceremony last week (Picture: The TAF award for Outstanding Contribution was collected by Michael's widow, Irene, and daughter Naomi. On the left is the host and presenter Mark Durden-Smith and to the right is Jon Vanstone, MD of event sponsor Borough IT.)
Simon McVicker of IPSE, a fellow award winner at the event and someone from outside the joinery industry who also knew of Michael's extraordinary legacy, said:
"The most moving moment of the night, and indeed in the history of these awards, was when Michael Lee won the award for outstanding achievement and his daughter and wife collected it. There was not a dry eye in the house."
Iain McIlwee, chief executive of the BWF, said:
"If any contribution was ever outstanding it was Mike's. He worked tirelessly for nearly 50 years in support of his beloved woodworking industry. My only regret in this award is that he wasn't there to take a bow – right now we should now be celebrating his retirement, not mourning his loss.
"Trade associations are very special businesses. They operate from a position of trust, balance many different views and find consensus on critical issues. This can be an incredibly complex and frustrating role at times and a heavy responsibility. Success is based on more than hard work, and requires an understanding of the membership and good communications. The truly successful people see beyond the job to the vocation.
"These awards recognise what is great about the world of trade associations and the people that dedicate themselves to this type of work, and Mike stands an inspiration to all of us."