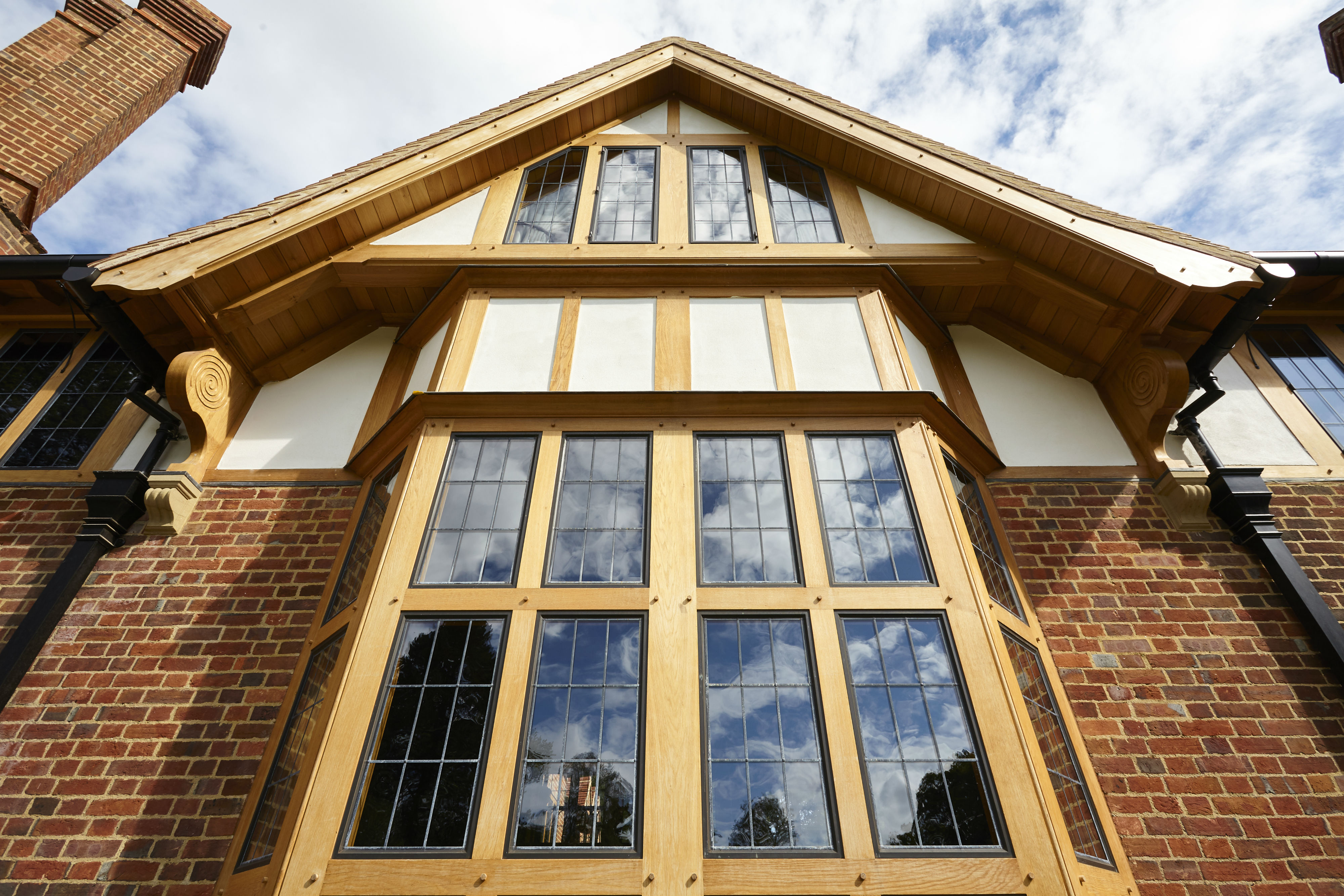 The shortlist for the prestigious 2017 BWF Awards has been announced at drinks reception at Timber Expo, part of UK Construction Week. The awards showcase the best of UK joinery, recognising the projects, products, processes and people that have hit the heights of woodworking excellence in the last year.
For the prestigious Woodworking Project of the Year Award, the shortlist includes Gelder Joinery Limited for their excellent restoration of an Edwardian House (pictured right), Kierson for their fine work on historic windows in Chesterfield and Houghtons of York for their spectacular work on a private residence (pictured below). Westbury Windows and Joinery, Promat UK Ltd, Gowercroft Joinery and Morland are competing for the Product Design in Wood Award, plus there is a great crop of rising stars and industry high achievers shortlisted in the other categories.
Iain McIlwee, Chief Executive of the BWF said: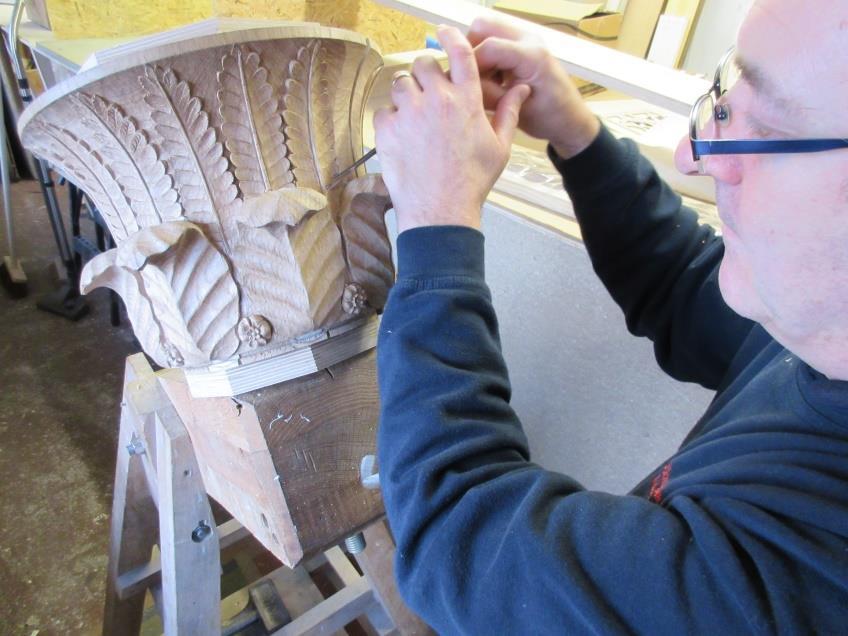 "As the entries came in, it was hosiery explosions all round as our socks were once more blown off by our industry! It's always been a joy and sense of pride to see the fantastic work that the UK woodworking industry is doing and the record number of entries this year underpins just how inspiring and innovative this sector endemically is. The Awards fulfil many purposes, they are a chance to recognise individual and collective brilliance, to benchmark and they are essential in helping us to uncover the stories, the projects, the products and the people that showcase just how brilliant the industry really is."
The winners will be announced at BWF's popular Annual Dinner which will take place at Drapers' Hall, London on Friday 24th November. Those shortlisted get a free place at the dinner and BWF is delighted to announce that Graham Poll, possibly the most well known and most experienced English football referee of all time, will be the guest speaker on the night. The BWF Annual Dinner & Awards are kindly sponsored by Accoya, Teknos, W18 Exhibition, Didac and CITB.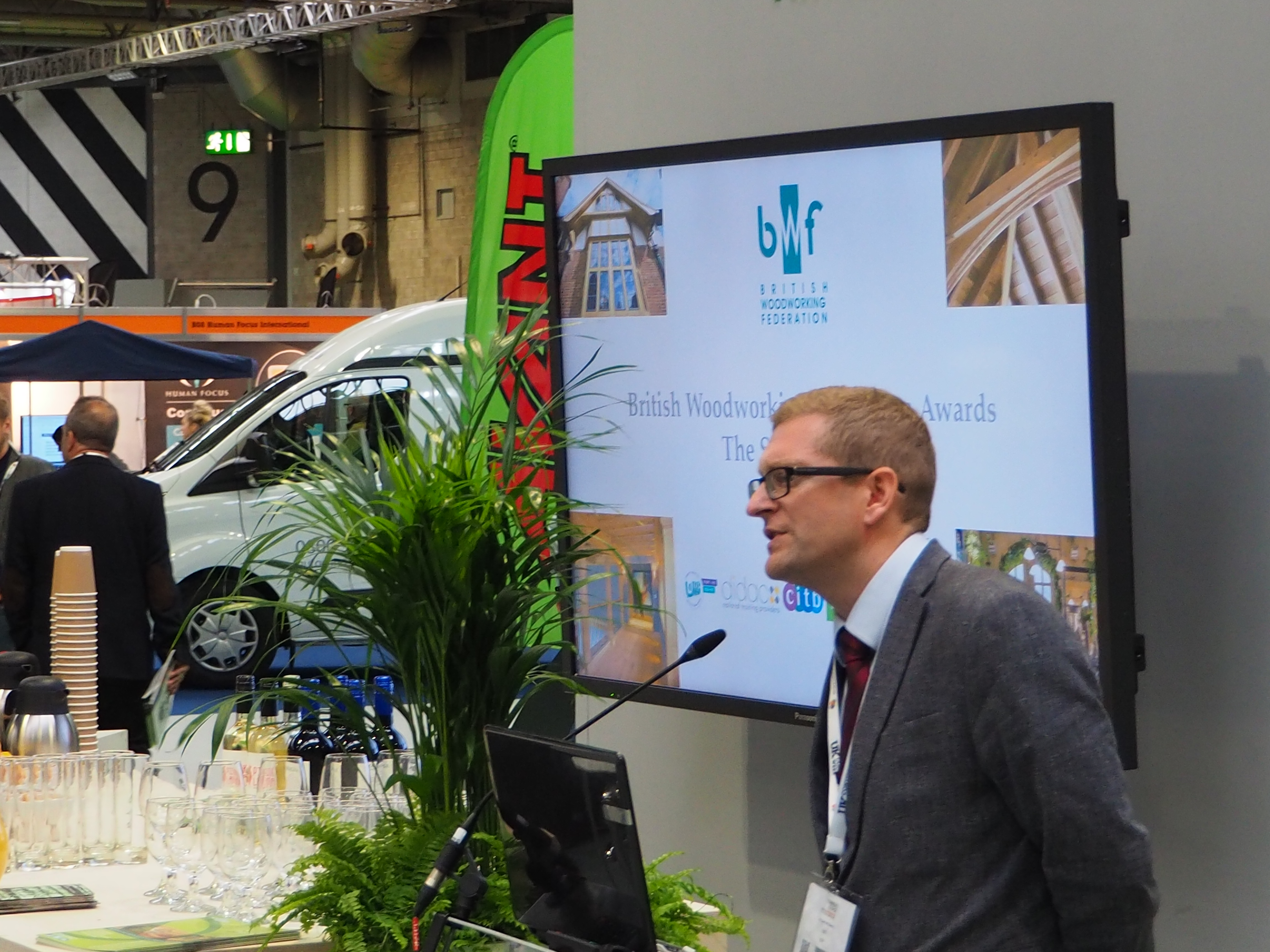 The awards shortlist launch (pictured) was part of a number of BWF events to raise the profile of UK joinery at UK Construction Week. A packed programme of events included the launch of a new version of the BWF Stair Scheme Design Guide for domestic stairs, new resources on fire door installation and the showcasing of two exemplar timber windows made from British-grown wood by BWF members as part of Grown In Britain Week.
Further information on the BWF Awards can be found at: www.bwf.org.uk/choose-wood/awards. Here you can view the full 2017 BWF Awards shortlist:
Woodworking Project of the Year Award (sponsored by Accoya)
The Woodworking Project of the Year Award recognises the very best in design, application or ability in joinery manufacture. The award was set up in memory of John Hedgecock, the former technical director at the BWF. It is a fitting tribute to a man whose dedication and knowledge of woodworking and joinery manufacturing was second to none. The 2017 shortlist is:
Gelder Joinery Limited for their wood work restoration of an Edwardian house
Kierson for the restoration and upgrading of historic windows and reproduction of new windows in Chesterfield
Houghtons of York for their joinery manufacturing and installation work on a private residence

Product Design in Wood Award (sponsored by Teknos)
The Product Design in Wood Award is for excellence in technical innovation, application, and achievement innovation in joinery product manufacture and design. The award recognises design and technical excellence for a specific product, rather than a project. The 2017 shortlist is:
Westbury Windows and Joinery for their French Doorsets
Promat UK Ltd for Promat SYSTEMGLAS®
Gowercroft Joinery for their Richmond and Winston Heritage Windows
Morland for their ABS Edge Banded Melamine Faced FD30 Fire Doors

Process Efficiency Award (sponsored by W18)
The Process Efficiency Award celebrates improvements that help customers get the best possible products at the best possible prices, at the best possible quality levels and in the best possible delivery times. The 2017 shortlist is:
AJB Group for their 'Process Efficiency to the Max' initiative
Mumford & Wood Ltd for their 'BRE LINA Environmental Product Declaration' work
Cotswold Manufacturing Ltd for their 'A Simple Change of Plan' initiative

Health & Safety Hero Award (sponsored by Didac)
The Health & Safety Hero Award recognises an individual or collective effort to improve Health and Safety Performance within a business. The Award is part of our wider Health & Safety Hero Campaign for the woodworking industry and is in memory of Michael Lee, former membership director at the BWF. The 2017 shortlist is:
AJB Group
Marldon Joinery
Kevin Claughton of Cotswold Manufacturing Ltd

Apprentice of the Year Award (sponsored by CITB)
The Apprentice of the Year Award celebrates the success of the rising stars of the joinery industry. The award recognises apprentices that have really stood out during their time with a joinery company. The 2017 shortlist is:
Oliver Walker of Gowercroft Joinery
Harry Dorsett of Barr joinery
Toni Beverley of Houghtons of York

Trainee of the Year (sponsored by CITB)
The Trainee of the Year Award seeks to celebrate those that have entered the industry through other training routes, including graduates, A-Level students and in-house trainees. They may have achieved some fantastic feats in their work, or show extraordinary commitment that really adds value to a company's workforce. The 2017 shortlist is:
James Mayo of Gelder Joinery Limited
Matt Brown of Leamington Spa College

ENDS