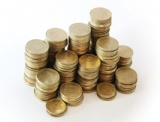 Government has announced further details on the implementation of the Apprenticeship Levy (government levy, not CITB) and the reform of apprenticeships and apprenticeship funding. The announcement brings mixed news for construction.
The co-investment rate for non-levy payers (so the cost to the employer of putting an apprentice through college/training provider apprenticeship programmes when they are below the £3m levy threshold) is lower than expected, at 10%, with the remaining 90% covered by funds raised by the levy. It's also encouraging to see that smaller firms will be exempt from co-investment if they take on a 16-18 year old apprentice. Companies of all sizes will also appreciate the £1,000 incentive for every 16-18 year old apprentice they take on.
There is still work to do to ensure the new apprenticeship funding bands for existing Frameworks and new Standards reflect the actual costs of training, so that apprenticeships are affordable for companies of all sizes.
Government have announced that 16-18 and 19+ funding rates for apprenticeship Frameworks will be replaced by new funding bands. Instead of providing different levels of funding based on age, occupations will be placed within the appropriate funding band based on the cost of an apprenticeship.
Standards
Over the course of the Parliament, the Government will phase out the current apprenticeship Frameworks so that all new apprentices undertake Standards. Apprenticeship Standards are employer-designed and offer employers and apprentices a more robust and relevant training experience – we are almost complete on the Joinery Apprenticeship Standard. Employer-led Standards are higher quality and more rigorous and so more expensive to deliver. This is recognised in the current funding system and will be recognised in the new system by allocating higher funding bands to apprenticeship Standards where appropriate.
Frameworks
The Government are mapping existing Framework apprenticeships across to a new set of funding bands. This exercise intends to establish a new common funding band for existing Frameworks (so for Wood Machining, for example) and eliminate the old 16-18 rate and the 19-24 and 25+ rates.
The newly proposed funding bands for apprenticeship Frameworks were published by Government on 12 August.
The new funding bands will only apply to apprentices recruited from 1 May 2017, with apprentices recruited prior to this date receiving the current rates of funding for the duration of their apprenticeship, even if an apprentice completes their training after 1 May 2017.
Existing Frameworks will be phased out over the course of this Parliament.
Funding Analysis
The majority of 2017 apprenticeship recruitment (peak recruitment May-Aug) will be through Frameworks. This analysis compares funding rates for Framework apprenticeships under the existing and proposed bands. The tables on the next page cover 4 large occupational areas in construction. The comparison between rates and funding bands in these examples is similar across other construction trades.
The tables show both rates for learners and rates per group of 100 learners. The mixed cohort examples given in the tables illustrate existing and proposed rates of funding for a typical age mix across apprenticeship training in construction of 65% 16-18 and 35% 19+.
Table 2 illustrates the proposed change of Framework funding to new Government funding bands. The table includes the Government's proposed £1,000 uplift to training provider and employer for the delivery of a 16-18 year old apprenticeship.
The table also includes the Government's proposed uplift for Science, Technology, Engineering and Mathamatics (STEM) occupations across construction, planning and the built environment. For all STEM Framework pathways the Government proposes to increase the current funded adult apprenticeship rate by 40% at Level 2 and 80% at Level 3 and above. This uplift takes into account the fact that employers with STEM apprentices are currently disproportionately likely to be paying extra to training providers on top of the funding provided by Government.
All examples below relate to Level 2 Apprenticeships, which currently form the vast majority of all apprenticeship recruitment in construction. We have not included funding for Functional Skills (Eng/Maths/ICT). For both Standards and Frameworks the Government proposes to pay training providers £471 for each of these qualifications.
For comparison we have chosen the average funding rates across available diplomas and NVQs within existing Frameworks.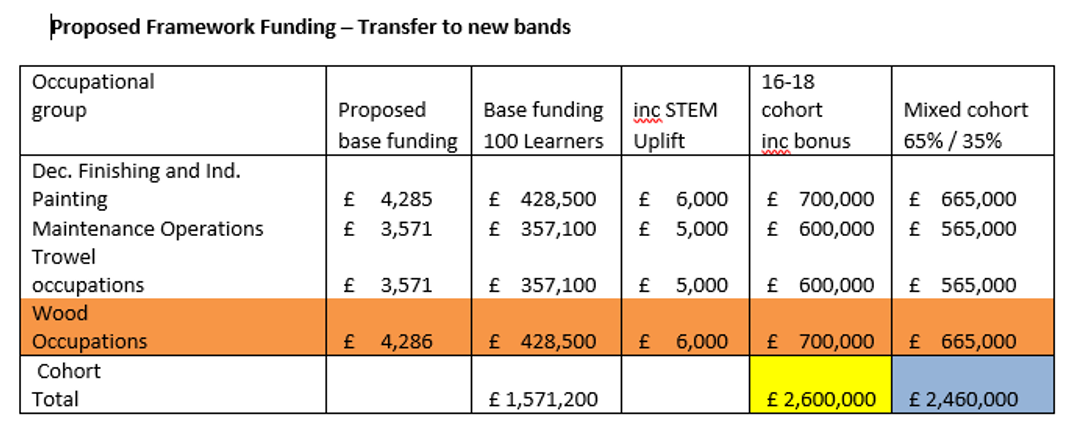 Summary
When adding in the STEM uplift and the 16-18 bonus payment within the new model, a training provider providing training to only 16-18 year olds across the occupations listed in the table (400 learners in total) would receive a reduction of approximately 30% (highlighted in yellow).
A training provider providing the same training to a mixed age group (65% 16-18/35% 19+) would receive a reduction in funding of approximately 20% (highlighted in blue).
Potential implications
Based on the funding reductions for Frameworks outlined above, there is a risk that providers across England may significantly reduce apprenticeship training capacity in high cost sectors such as joinery, instead focusing on low cost apprenticeship training, full time learning, and adult upskilling.
Under the new proposals providers will be able to raise additional charges against employers for training above the funding cap. Providers may potentially use this to recover any funding reductions from employer fees.
Faced with either increased charges or a lack of local provision for Frameworks there is a risk that employers may drop the apprenticeship training model for an NVQ only route.
Although not illustrated above, there may be a similar impact on Level 3 Framework delivery which will reduce the opportunity and capacity for learners to progress to higher level skills.
For more information on this, or to give your views on the governbment's proposals, please contact dave.campbell@bwf.org.uk