The much-anticipated report from the Bonfield Review, Each Home Counts: An Independent Review of Consumer Advice, Protection, Standards and Enforcement for Energy Efficiency and Renewable Energy, has been published and makes recommendations relating to consumer protection, standards and enforcement, calling on government to back a quality mark for green home improvements.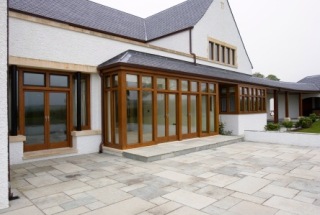 The report was initially commissioned in July 2015 by former energy secretary Amber Rudd and former communities secretary Greg Clark. It came about in the wake of the demise of the Green Deal, which was the coalition government's flagship initiative to improve the thermal performance of the UK's existing housing and non-residential properties. The Green Deal had been officially launched less than three years before.
The Bonfield Review focused heavily on protecting the customer and setting high standards for energy improvement work. The report makes 27 recommendations and proposes a single quality mark for all energy efficiency and renewable energy improvements to the home. To obtain the mark, builders would need to show that they have been certified by an "approved certification body", as well as meeting three key requirements:
- A consumer charter which guarantees certain levels of service
- A code of conduct for companies that will govern their behaviour and operations
- Codes of practice relevant to the installation of each measure to minimise the risk of poor-quality installation.
BWF Policy & Communications Executive Matt Mahony commented on the report:
"The Bonfield review makes a number of sensible recommendations to help restore confidence in the home energy efficiency improvement market, although there is little to benefit manufacturers of energy efficient windows and doors as it stands. The review marks the beginning of a journey and targeting consumer protection is a crucial stepping stone, especially in areas such as Cavity Wall Insulation.
"It is too early to judge whether this journey will gather momentum, and ultimately we could see a distracted government reluctant to make meaningful policy changes, weakened by the failures of the Green Deal, or, hopefully, proactive involvement from both government and industry to solve the problem of a UK housing stock which is amongst the least energy efficient in Europe and contributes to high energy bills and nearly a quarter of our annual carbon emissions."
As part of the initial stage of planning, the BEIS Review Team invites feedback on the review recommendations and related proposals for action. Feedback can be mailed to EachHomeCountsReport@beis.gov.uk until 31 January 2017, or sent through to matthew.mahony@bwf.org.uk before the date to support a BWF response. Feedback provided will then be considered in the context of implementation going forward.

BWF has 700 members drawn from manufacturers, distributors and installers of timber doors, windows, conservatories, staircases, furniture, all forms of architectural joinery including shopfitting, timber frame buildings and engineered timber components, as well as suppliers to the industry.
When selecting a supplier for your project, its important to select a company you can have confidence in. Here you can find a member of the BWF to supply your project.