The British Woodworking Federation has launched a new service allowing joinery firms to comply with new regulations on CE marking coming into force in 2013.
From 1st July 2013, all manufacturers of windows, external doors, and any other construction product covered by a harmonised European product standard, will be required to CE mark their products. Work is also underway on standards for internal doors and fire doors.
Having a written Factory Production Control (FPC) system is a requirement under the different evaluation systems identified for CE marking. FPC covers the procedures put in place to maintain consistency in quality and to keep records of non-conforming products, processes or materials.
To help joinery businesses meet their CE marking obligations, the BWF has put together a comprehensive template FPC manual that can be adapted to fit each individual business. Including an initial half day visit from a BWF FPC expert, the service will help ensure the set up and maintenance of a written FPC system and follows a simple and non-bureaucratic process, complete with written guidance notes on adapting the manual. Further assistance is available on request.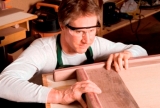 Having a written FPC system in place is also part of the necessary requirements of the BWF Stair Scheme and can be a stepping stone towards adopting certificated quality management systems such as ISO 9001:2008.
BWF Technical Manager Kevin Underwood said:
"Maintaining a written FPC system is a crucial requirement of CE marking, and, with manufacturers on the continent having been CE marking for years, it's crucial that UK businesses don't miss their cue and are able to meet their obligations in time and remain competitive.
A lot of smaller manufacturers feel that they will be exempt from having to CE mark their products, but this is only the case where products are either made to bespoke, 'non-series' specifications or made in a traditional, non-industrial way for heritage and restoration projects.
In the case of a window manufacturer, it is likely that you will still be required to CE mark even if you are changing the size of the window, or the position of casements, mullions or transoms. A simple rule of thumb is that if you are changing the cutting tools each time, then you will be making a bespoke window, in which case you may be exempt."
CE marking will allow customers to make an informed and confident choice about the products a company manufactures.
For more details on the support packages that the BWF can offer, including costings and an application form for the new FPC service, please visit our Total Support Services page or contact Matthew Mahony at the BWF on 0844 209 2610.