18 year old Chris Lake, apprentice joiner at GS Haydon & Son Ltd in South Molton, Devon has won the prestigious British Woodworking Federation (BWF) Apprentice of the Year Award 2012.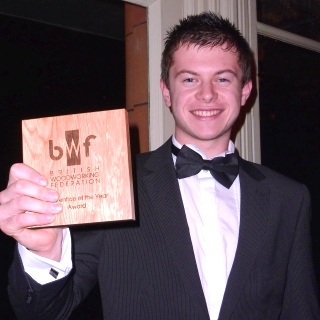 At a glittering dinner at Lord's Cricket Ground Pavilion on Friday attended by UK joinery industry's most senior figures and business leaders, Chris was presented with his award by Stuart Littlefair, Specialist Manager from CITB-ConstructionSkills which sponsored the award. Chris also received a £150 cash prize from management consultants Lignum Associates.

Chris said:

"I'm made up with this award! It was a huge surprise and it's great to get an award for doing something I really love doing. My uncle is a joiner and I always enjoyed doing some basic carpentry on the family farm as well as at school, so I started looking for joinery apprenticeships as soon as I left school.

"I applied to loads of places and after two weeks' work experience at GS Haydon & Son, they offered me the opportunity I'd always wanted. It has been fantastic. I have received a lot of very good training, and now I get to do much more than I ever thought I'd be allowed to do in my apprenticeship – bench work, working with machinery like spindle moulders, panel saws and mortices, and not too much sweeping up! I enjoy it all."

Graham Haydon, MD of GS Haydon & Son Ltd, said:

"Chris showed promise from the beginning, even in the professional manner of his CV. Since he has started with us, Chris has shown an impressive work ethic, the right attitudes and aptitudes. Learning the basics fast, he has quickly moved onto more complex tasks and he is assisting other team members with their work.

"Chris put himself forward to work on some complex jobs here, and he has really done well. One of our clients praised him too, commending Chris's attitude and high standard of workmanship on a tricky stair restoration project. We have high hopes for this young man who will become a highly skilled joiner and a valued member of our team."

Dave Campbell, manager of the BWF Woodworking Industry Training Forum (WITForum) which provides services and support to joinery businesses looking to take on apprentices and promotes such opportunities to young people, said:

"For any young person looking for an exciting and practical way of learning new skills, earning good money and staying clear of student debt, look no further than woodworking and joinery manufacturing. BWF member firms are generally ahead of the game when it comes to investing in apprentices, and they open the door to people like Chris to enjoy a successful and rewarding career in joinery and to help us secure the future of this industry."

The BWF WITForum and CITB-ConstructionSkills also gave recognition to the two runners up: Ross Spark of AA Taylor Ltd in Brighton, and Max DeCourcy of Parker & Highland Joinery Ltd in Lancing, West Sussex. Ross and Max were similarly nominated for the award by their employers for their hard work and dedication.

The Apprentice of the Year award honours and rewards the success of newcomers to the joinery industry. It acknowledges outstanding achievement, commitment, personal development and the added value that the apprentice gives to the host company.