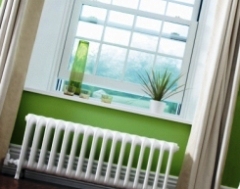 22 organisations have met with Climate Change Minister Greg Barker to sign an agreement with government to work to become the first Green Deal providers. Those who have signed up to the agreement included energy suppliers, building firms, installers, financiers and a community group.
The full list is available below.
Green Deal providers will be offering energy efficiency packages to consumers as part of the scheme to improve the thermal performance of the existing UK building stock at no upfront cost to the consumer. BWF members working as installers and manufacturers for Green Deal measures will be required to work with a Green Deal Provider.
BWF Policy Executive Matt Mahony said:
"With three of the big six energy companies now formally involved in the Green Deal - British Gas, E.ON, and Scottish & Southern - the government will be using this announcement to demonstrate that the scheme is gaining forward momentum. Although the likes of Tesco and M&S are absent from the list, there is a high street presence in the shape of Kingfisher, the home improvement retail group behind the consumer brand B&Q.
But with the scheme launch only months away, big questions still remain over what the demand for the Green Deal will be and whether manufacturers and installers will be given a level playing field in terms of the provision and installation of green deal measures"
The BWF responded to the Green Deal consultation earlier this year will keep members informed of any scheme developments.
The BWF Members' Day Workshop on 'The Green Deal: Finding The Opportunities And Avoiding False Hope', will help you to understand the opportunities facing your business. To attend the workshop and book a place at this year's Members' Day on Thursday 24th May, click here.
The list of organisations who have signed the Green Deal provider agreement are, in alphabetical order:
Ampere GDP
Anglian Home Improvements
BritishEco
British Gas
CarbonLow Group
Carillion
Empower Community
Enact
E.ON
Gentoo Group
Grafton Group
Insta Group
Keepmoat
Kingfisher
Mark Group
ReEnergise Finance
SIG plc
SSE
Stroma
Toriga Energy
Willmott Dixon Energy Services
Yorkshire Energy Services