The MP for south Derbyshire, Heather Wheeler, has praised the entrepreneurial spirit of staircase manufacturer and BWF Process Efficiency Award Winner TwoTwenty during a visit to the firm's headquarters.
Mrs Wheeler toured TwoTwenty's Foston-based factory and congratulated members of staff on the firm's recent award wins and continued business growth.
During her visit, Mrs Wheeler (pictured with Ali Wright) praised TwoTwenty for its ambitious growth and development plans despite the uncertain economic climate.
"It's wonderful to see businesses in Derbyshire thriving," she said. "TwoTwenty has a fantastic reputation in its industry and is clearly going from strength to strength.
"What's more, the firm's staff truly care about the service they give their customers, which was evident to me during my visit to their factory."
Ali Wright, TwoTwenty's founder and director, said: "Despite the uncertainty surrounding Brexit, we've seen a significant increase in demand for our staircases in recent months. As a result, we're investing in every part of the business to make sure we can meet that demand.
"We have a fantastic team who deliver a superb product and service and we will continue to build our business to support our customers even further."
Mrs Wheeler said:
"I'm proud to represent a constituency where local small businesses are leading the way to a stronger, healthier economy. TwoTwenty is a shining example of a firm that has rolled up its sleeves and worked hard to deliver substantial growth. It's clear they, and many other Derbyshire-based manufacturers, have a very bright future indeed."
Ahead of the government's Autumn Statement, which will be published on 23 November, TwoTwenty urged the government to continue offering incentives for manufacturers to invest in new plant and machinery.
Ali Wright said: "The corporation tax incentive offered by the government to help manufacturers invest in new plant has been vital to stimulate growth in recent years.
"However, the current threshold at which investment can be written off against profit is expected to be reduced next year. I strongly urge the chancellor to maintain the current threshold, or raise it, to further assist growth."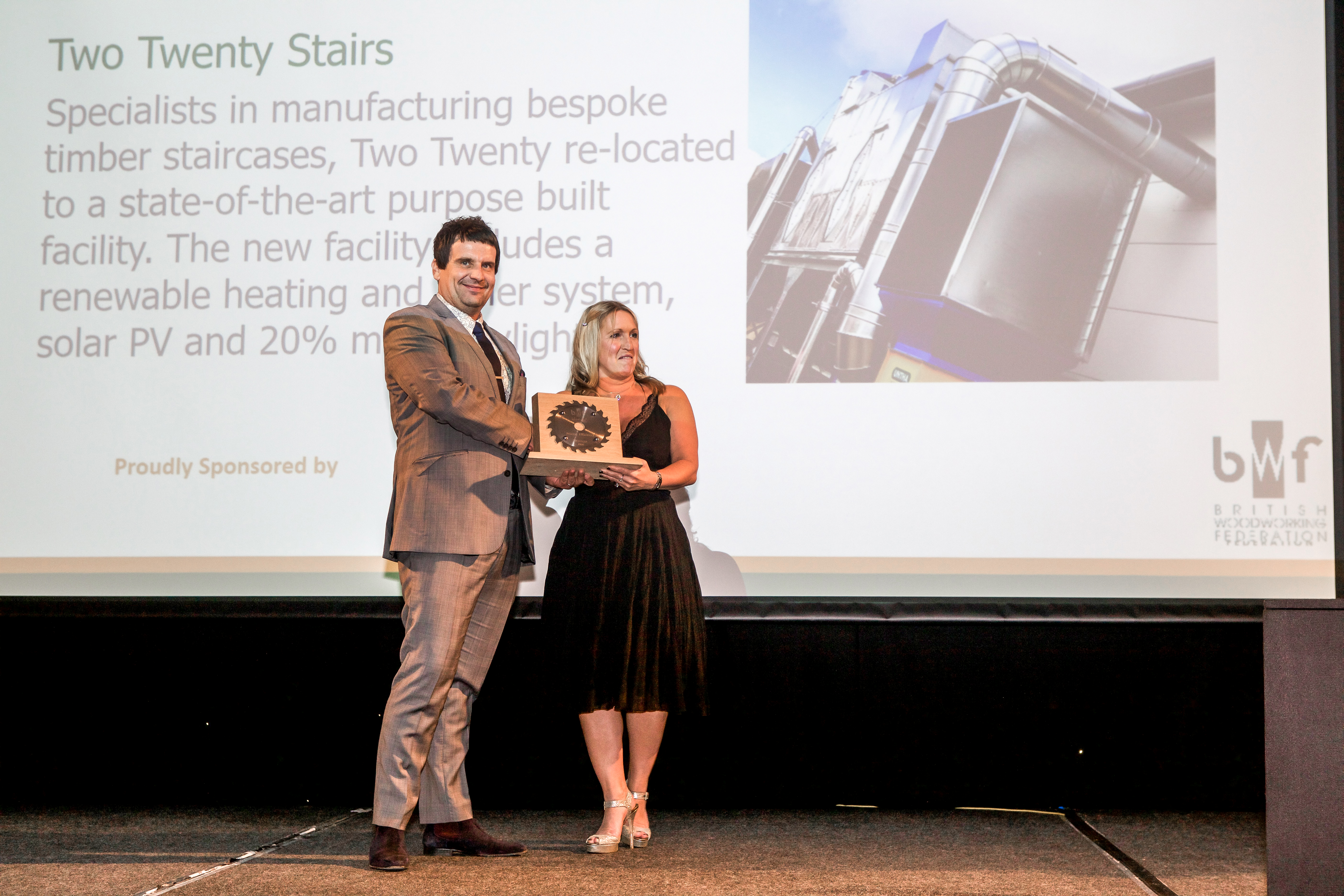 A recent submission from the BWF supported TwoTwenty's comments, insisting that, "Low-energy manufacturing must be incentivised, job creation and investment never penalised. When trying to drive investment, it makes no sense to include plant and machinery in rateable value."
TwoTwenty's continued success was recognised at national level at the BWF Woodworking Awards, which took place on Tuesday 4 October at the National Motorcycle Museum. The firm won the Process Efficiency Award (sponsored by W16) which rewards new, efficient processes in the industry which boost business performance and provide customers with the best possible products at the best price, quality level and delivery time.
TwoTwenty won the Award for their new Zero Light, Heat and Power Head Office. The new premises include a renewable heating and boiler system, solar PV, significant additional daylight (more than 20%), and individual PIR sensors on all the factory lights that mean they only come on if needed and only to the lux level required for the activity. In their first full financial year in the new office, Two Twenty has achieved a negative fuel bill – they actually make money rather than spend money on heat, light and power. None of their hard or soft wood waste goes to landfill. The company also gained further local recognition at the Burton Mail Business Awards, scooping the Overall Business of the Year award.