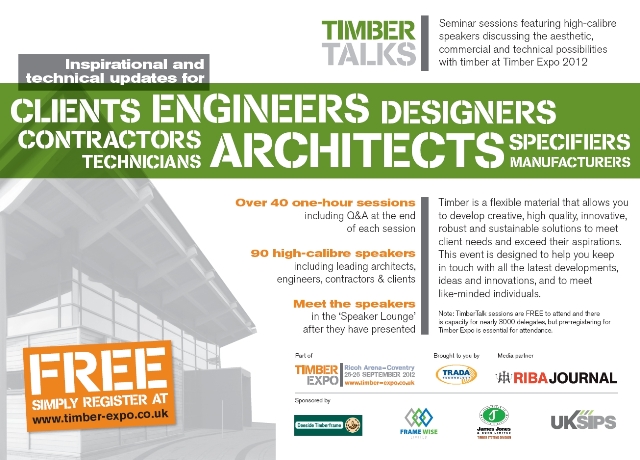 The Timber Talks programme of seminars that run throughout the two days of Timber Expo on the 25-26 September are set to deliver a diverse range of subjects pressing all four corners of the industry from over 100 timber industry experts and personalities.

Timber Talks are FREE to attend and will take place inside three separate bespoke timber theatres created especially for Timber Expo by UKSIPS, Frame Wise and Deeside Timberframe with James Jones & Sons. With nearly 5,000 people already registered to visit the show, the seminars are set to be hugely popular with a 'first come, first sat down' policy in operation.

Don't Miss Out…

EUTR, Legal and Sustainable Timber
London 2012 Olympic Games
Wood Awards Shortlist
The Green Deal
Engineered Timber
Fire & Risk Management
Building Information Modelling (BIM)
Modified Woods
Fabric First & PassivHaus
Promoting Timber
Members are also invited to attend the Timber Industry Summit.

The summit will feature the unveiling of exciting new research on the future of the timber industry and the aim is to stimulate debate that will help identify key steps to securing a positive future for the sector. Research has focussed on the key challenges facing the timber industry, how other sectors are rising to these challenges and lessons that we can learn as a timber sector. The panel features leading names from the specifier, building and timber sector.

This summit is the first project of the Timber Industry Accord. The Accord has been signed by the leading timber industry trade bodies and is aimed at bring together some much needed joined up thinking in the timber sector. The event will take place 2 - 5pm, Monday 24th September 2012 at the Ricoh Arena, Coventry Ricoh Arena, Coventry. To book your place (spaces are now severely limited) please visit: http://www.timber-expo.co.uk/summit-registration

For more information on Timber Talks and to download the full line up of seminar sessions visit: www.timber-expo.co.uk/whatson. Timber Talks are FREE to attend and you can register for Timber Expo at www.timber-expo.co.uk/book

And don't forget, BWF will be exhibiting at stand Z71, promoting members to the vast number of specifiers that we are expecting to attend. Make sure you are pre-registered to make your entry into the show as easy and hassle-free as possible. We are also running a joinery-related workshop, aimed at specifiers, on 26th September at 9am in Seminar Theatre 1 - just register for TimberExpo and turn up on the day. Joinery firms should join us for our technical briefing 'Joinery's big 3 for 2013' focusing on CE Marking, EU Timber Regs, and HSE intervention fees in the Legends Lounge on 25th September 3.30-5pm. This will provide specific guidance for joiners on these big and unavoidable issues for 2013. You'll need to book directly with us to attend this event - but it's free!