With a number of unscrupulous operators targeting SMEs, BWF members are reminded that when they enter into a contract for goods or services, they need to fully aware of what their legal position will be. It is crucial to know what you are signing up for, especially the length of the contract, the notice you have to give, whether you can already get the services from existing sources, and what standard of customer service you should expect.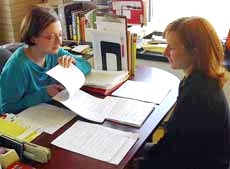 We still get a number of calls on the member helpline from joinery businesses that have been tied up in unfavourable contracts for services which range from copier machines, water coolers and online directories to expensive, long term contracts for employment assistance and legal service.

There are also a number of scams that have caught out woodworking companies to our knowledge. One of these if the European City Guide, which tricks companies into signing a document which they believe to be an application for a free entry in a Guide. It turns out to be a 3 year 'contract', costing around £500 per year.

The Federation of Small Businesses (FSB) are familiar with this type of scam and their guidance is that companies do not need to pay, the 'scammers' have never taken anyone to court and you should report the incident to the Office of Fair Trading and write a letter of complaint to the Authorities in the country of origin of the scam.

On the website www.stopecg.org you will find a comprehensive explanation on how such a scam operates. Prominent 'scam guides' listed by the FSB include 'The Fair Guide', 'Intercable Verlag AG' and 'Novachannel - The Tourist Directory'.

Businesses should be equally wary of unsolicited approaches from companies purporting to work for the Information Commissioners office or offering to appeal against a new business rates valuation on their behalf (in exchange for fees of up to £700). Their contracts are often carefully worded and don't match up to the promises the salesperson has made by phone or in person. Businesses have the legal right to appeal against their new rateable value themselves, free of charge and can get advice from the local Valuation Office (the valuation office website is www.voa.gov.uk). On appeal these rates could go up as well as down.

The common link between many of these scams is that a reluctance or failure to pay the 'contract' can initiate a period of harassment which may continue over a number of years.

Although compliance with the BWF Code of Conduct provides evidence that a woodworking company is carrying out industry best practice, businesses should also be aware that membership of a trade body does not automatically mean that a company will necessarily provide a worthwhile service. The FSB itself is predominantly set up as a lobbying body on behalf of its membership, and other trade organisations may not enforce rigorous standards for their members.

When making a contract for goods or services, we have a number of golden rules that we advise members to follow:

DO:

Confirm contracts in writing. Contracts can be made verbally but they are much more difficult to prove if there's a problem later.

Keep the originals of any contracts and other documents that you relied on when signing the contract. File them where you can find them again!

Put any claims made by a salesperson or representative about the goods or services in question into the written contract (particularly if you were persuaded to buy the goods or services because of those claims).

Check whether you can bring a contract to an end by giving notice. Make sure you are clear about how much notice must be given and if you must do specific things before giving notice (e.g. pay all sums due in the contract).

Be clear about how you will measure the standard of goods and services provided. If they fail to meet the required standard can the service be improved, the cost altered or the contract terminated?

State in the contract when delivery or performance must occur. If it must happen on the dates stated write on the contract that "time is of the essence".

Also write changes to the contract down and keep a copy with the original contract. Write to the other party confirming the changes with a copy letter for them to sign and send back to you.

DON'T:

Sign anything without reading it first! You are bound to all the items in any document you sign whether you are aware of them or not.

Sign anything you have read that you do not understand. If you don't understand something, alter it so that it is clear.

Agree to a contract that lasts for more than two years unless you can end it earlier by giving notice.

Forget to take and check up on references if the supply is for something important (e.g. company searches, credit ratings or satisfied customers).

Accept "Standard Conditions of Sale (or Purchase)" from the other side without reading them first. You may get some conditions changed if you ask.

Further advice on problems with a contract, how to end contract can be found by downloading our 'Golden Rules Of Contract Management' document. Members are reminded that they get free legal, employment and health and safety advice as part of their subscription, both through our publications and our member helplines where we can draw on support from organisations such as Wedlake Bell, Didac and Baker Tilley.

The BWF cannot accept liability for loss or damage arising from the use of the information supplied in this publication.