Over recent months there has been a notable increase in member enquiries about fire door certification as more and more customers and building users are demanding to see third-party certificates for fire doors and installations such as fire-rated glazed screens.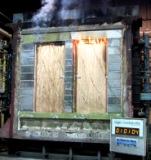 The demand has come about for a number of reasons; high profile fires; the growing impact of the Regulatory Reform (Fire Safety) Order, and the heavy fines for those found in breach of fire safety requirements; a realisation that 3rd-party certification is an important necessity for fire-safe products and installations; and an increase in the education of building owners and managers via seminars and other programmes right across the fire industry sector, including Fire Door Safety Week - the brainchild of BWF.
So what does this mean for many joinery companies who have manufactured and sold fire doors in the past, but now find they need to have third-party certification?
There are a number of ways in which the BWF-CERTIFIRE Scheme can help.
First, guidance is available from our BWF-CERTIFIRE website for companies who may wish to make minor changes to a fire door leaf. It is not a mandatory requirement to be certificated if making certain changes to fire doors manufactured under the BWF-CERTIFIRE Fire Door Scheme. Some changes are allowed within the certification scope of the fire door leaf.
Secondly, if you process fire doors using door blanks, you can now become a 'Licensed Door Processor' under the Scheme, and certificate the blank within the scope of blank's certification without the need for testing. The test evidence from the blank manufacturer is 'cascaded' down to you.
Thirdly, if you wish to process door leaves by adding vision panels or make other alterations, you can do so, under license to the original door manufacturer (known as the Prime Door Manufacturer or PDM). You can be licensed to more than one PDM, and can also combine that operation along with blank processing on the same certificate.
In the latter two cases, you must have the permission of the Licensing Company, have your staff trained to undertake the work by the appropriate manufacturer, and have the correct Factory Production Control Systems in place. You will be audited by our certification partner - Warrington Certification Ltd. (CERTIFIRE) - to ensure your systems and trained staff comply.
If you want further information on any of the above, please visit 'Scheme Resources' on the BWF-CERTIFIRE Website.
Finally, if you manufacture glazed screens and are required to show that they are fire-rated, YOU MUST remember that fire-resistant glass must only be used as part of a fire-resistant glazing system – which includes the glass, the glazing seals, glazing beads, fixings and frame. All the essential components of such a system must be compatible under fire conditions and the performance must be referenced to appropriate and relevant test evidence.
The Glass and Glazing Federation's Best-Practice Guidance on Specification and Use of Fire-Resistant Glazed Systems is also available on our 'Scheme Resources' webpage.
John Fletcher
BWF-CERTIFIRE Fire Door and Doorset Scheme Manager