As the biggest single event sporting competition in the world, the 2014 World Cup in Brazil is set to provide entertainment, discussion and possibly heartbreak for many employees in the joinery sector. With little over a month before the event kicks off, it is important that employers are aware of how to deal with any potential disruptions that such an event may bring.

When will it happen?

The tournament kicks off on Thursday 12th June with England fixtures are scheduled for 11pm on Saturday 14th June (vs Italy), 8pm on Thursday 19th June (vs Uruguay), and 5pm on Tuesday 24th June (vs Costa Rica). Successful performances in the early stages could see England play up to four further matches in the competition by the time the tournament on Sunday 13th July.

With representatives from a number of countries within the UK joinery workforce, and teams participating in the World Cup appealing to fans from all over the world, it's worth considering that individuals could be interested in watching competitors from all nations, not just England.

What are the risks to the business?

With most of the games taking place in the evening, and some of them going into the early hours of the morning, employees may decide to watch the games in the pub, or drinking domestically with friends or colleagues. Licensing laws regarding pub closing times have been relaxed in order to cater for some of the matches and the pub trade is set to generate millions of pounds in extra revenue over the course of the event.

The first point to make is that it is unacceptable for an employee to turn up so hung over as to be incapable of doing any work the next day. Employees in such a state can pose a serious risk to workplace safety, especially where their job involves tasks such as operating machinery or driving a vehicle. We have written a template alcohol and drugs policy that employers may wish to adopt.

It is also important to remind staff of your policy on absence. Employers should make clear there are disciplinary consequences for taking unauthorised time off without good reason, not performing at work, or misbehaving. It should be made clear that it is unacceptable to use sick leave, either to watch events or to recover from the aftermath of a big night out.

Employers should be wary that such excitement may lead to increased misbehaviour during the tournament, and it is important to consider the needs of the entire workforce and not just those following the football. Consistent application of company policy is paramount.

Taking time off to watch the matches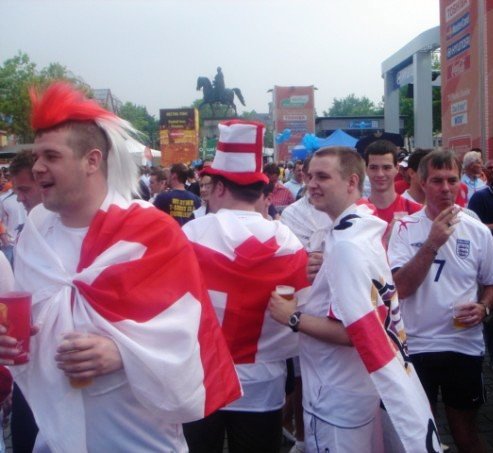 If it is not inconvenient for the employer, then an employee may be allowed to use some annual leave or negotiate unpaid leave in order to watch (or indeed recover from watching) such an event. Flexible working or shift swapping may also be a reasonable option. Employers are reminded that parents of children aged 16 or under (or of disabled children under the age of 18), and also carers of adults have a right to request to work more flexibly that an employer has a statutory duty to consider. Allowing staff flexibility in start and finish times or introducing a homeworking policy (where possible) may also mean that your business could cope better with unexpected events, such as flooding or winter snow.

Letting employees keep track of the events

You may find that there are opportunities to be gained from catering to the interests of staff during the World Cup. It may help to improve employee morale, reduce stress levels and encourage workers to go the extra mile for the organisation.

In the case of the earlier games, such as those which kick off at 5pm, some employers may choose to screen some of the events, or allow employees to follow them on the radio. It is important for employers to set out clearly what their policy is regarding screening and watching events and then be consistent in how this is managed. You can decide whether you are happy for employees to keep track of events, allow a level of flexibility, or take a zero-tolerance approach. However, the important thing is to communicate to staff what the policy is and why, in advance of any games or events, and then enforce it consistently. Businesses are reminded that they will be required to have a TV licence if the matches are to be shown on TV.

When considering letting employees follow events, it is vital that Health and Safety considerations are taken into account, for example to reduce the risk of an employee being distracted from the task in hand.