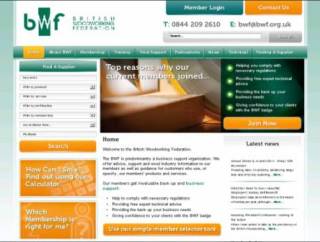 New laws are now in place that restrict the use of tracking cookies (small files used to monitor user behaviour and preferences) on your website unless the user has opted-in.
In our article "Is your website breaking the law?" we explained the changes in the law on cookies.
Do you use cookies?
You may not realise it, but almost all websites will store some information on visitors to the site, although this varies from site to site. If you offer an e-commerce facility on your site, you'll likely have 'basket', like you might get on Amazon or Ebay – this only works properly because the cookie makes a note of what you have put in your basket to buy.
Perhaps you're using analytics software to see how many people are visiting your site and what pages they go on – you'll likely be using cookies to gather this data.
The use of cookies isn't a bad thing; it actually helps the visitor have a better experience on a website, whether it's not having to re-add products to the basket they want to buy, or simply you use the analytics data to make your website more user-friendly.
What do I have to do to be compliant?
The law states that you need to seek each user's permission to store cookies about them. However, guidance before the law came into force was quite sketchy on how to do this, and whether this needs to be an overt expression of consent or implied. You will also need to have a cookies policy as part of your website terms and conditions.
With the new regulations now in effect, there are some good examples of how you can include this opt-in on your site:
British Woodworking Federation www.bwf.org.uk
Take our own site, we place a banner at the top of the website the first time a visitor comes to the site (you may see it at the top of this page if you haven't already accepted). Once you click continue, the banner disappears and cookies will be stored, which also means this banner will not appear on any other pages you visit on the BWF site, or if you return another day. We've kept the message positive so people understand why cookies are important and how it improves there visit experience and kept the colours in with the website branding, so it doesn't dominate the page.
BT www.bt.com
A small box appears in the right-hand corner, explaining how settings are set to accept all cookies. This message disappears after 10 seconds, assuming that you consent to all cookies. You can adjust your settings by clicking on the link, and there are a number of options – probably a little over-sophisticated for a joinery company's site, and although the design and wording is good, we would recommend the cookie message remains until the user clicks agree/consent/continue etc.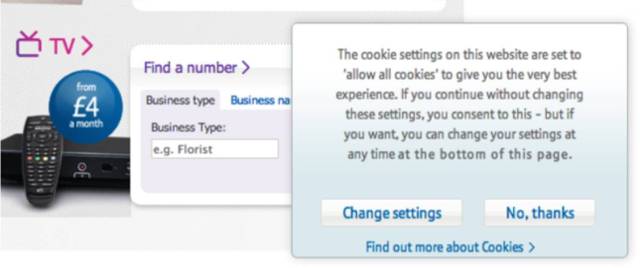 The Sun Newspaper www.thesun.co.uk
They have a small bar at the bottom of the page that sits over the website page and remains static when the page scrolls down, but is inconspicuous as not to interfere with the website experience. It doesn't, however, explain why they use cookies and why they benefit the visitor.

Ebay www.ebay.co.uk
Hardly subtle, the bright green banner sits on top of the webpage until you click continue – it does state why cookies help the user.

Take a look at all of these sites for their cookie policies, but you can see ours here.
How do I make the changes to my site?
You will need to speak to the person/company that built your site to make the necessary changes to comply.
For more information on complying, visit the Information Commissioner's Office (ICO) website for guidance, or contact the BWF on 0844 209 2610.