Many of you will be returning to work after the winter shutdown, and with workshops and offices having lain dormant for the festive period, there will no doubt be a few comments across the country regarding heating arrangements. So just what is the minimum temperature that workers can be exposed to?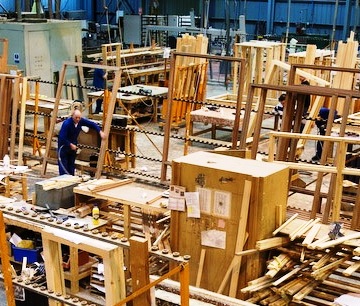 HSE's guidance on this issue is as follows, namely that the law does not state a minimum temperature, but 'The Workplace (Health, Safety and Welfare) Regulations 1992' lays down particular requirements for most aspects of the working environment. The relevant Approved Code of Practice (ACOP) states that:

'The temperature in workrooms should normally be at least 16 degrees Celsius unless much of the work involves severe physical effort in which case the temperature should be at least 13 degrees Celsius. These temperatures may not, however, ensure reasonable comfort, depending on other factors such as air movement and relative humidity.'

Regulation 7 of these Regulations, which deals specifically with the temperature in indoor workplaces, notes that that, during working hours, the temperature in all workplaces inside buildings shall be reasonable. However, the application of the regulation depends on the nature of the workplace i.e. a bakery, a cold store, an office, a warehouse.

The associated ACOP goes on to explain further:

'The temperature in workrooms should provide reasonable comfort without the need for special clothing. Where such a temperature is impractical because of hot or cold processes, all reasonable steps should be taken to achieve a temperature which is as close as possible to comfortable. 'Workroom' means a room where people normally work for more than short periods.'

In order to help employers assess thermal comfort, and help them determine what is considered 'reasonable', the HSE has provided a 'five steps to risk assessment' method that employers can use to identify and control the factors contributing to thermal stress.

www.hse.gov.uk/temperature/thermal/fivesteps.htm

The advice covers such issues as allowing employees to adapt to their environment by adding or removing layers of clothing, establishing whether repeated accidents or absenteeism could be attributed to thermal conditions, and the importance of paying particular attention to those workers who have skin ailments, circulatory illnesses, respiratory illnesses, physical disabilities or are pregnant.

BWF Members are reminded that they can obtain information on how to make their workshop and machinery safer by logging in to the BWF website and using our Machine Safety Cards, phoning the BWF member-only helpline, or by viewing our Health and Safety Publications, including the BWF guide to Health and Safety in the Woodworking Industry, which is of course free for members to download.

Members who want our help in ensuring that they are compliant with current legislation, are reminded that they can get their Health and Safety audited through the BWF at a reduced rate.