Case Study: Broadley Group – Development of a training plan
Shortlisted entry: BWF Health & Safety Hero Award sponsored by Didac
Project: Huge budget committed to new training plan for staff
BWF Member Plan: Broadley (Group) Ltd
Type of work/product(s) produced: Bespoke Architectural and General joinery
Broadley has grown in size, turnover and many new employees significantly over the last few years and during this growth period the directors have committed to keeping Health & Safety as their top priority ensuring all the team have full training ensuring the delivery of all work safely.
They have just developed a training plan for the next 12 months to ensure their team are trained to the highest standard and the directors have committed to £60,000 in additional training budget to enable this to be delivered.
Broadley have just been nominated to become a Network Rail Principal Contractor so have embarked on training a specialist team on trackside safety
They have employed a full time HSQE Manager and Safety team to ensure each site has thorough safe plans of work and all the required equipment and work has been well thought through.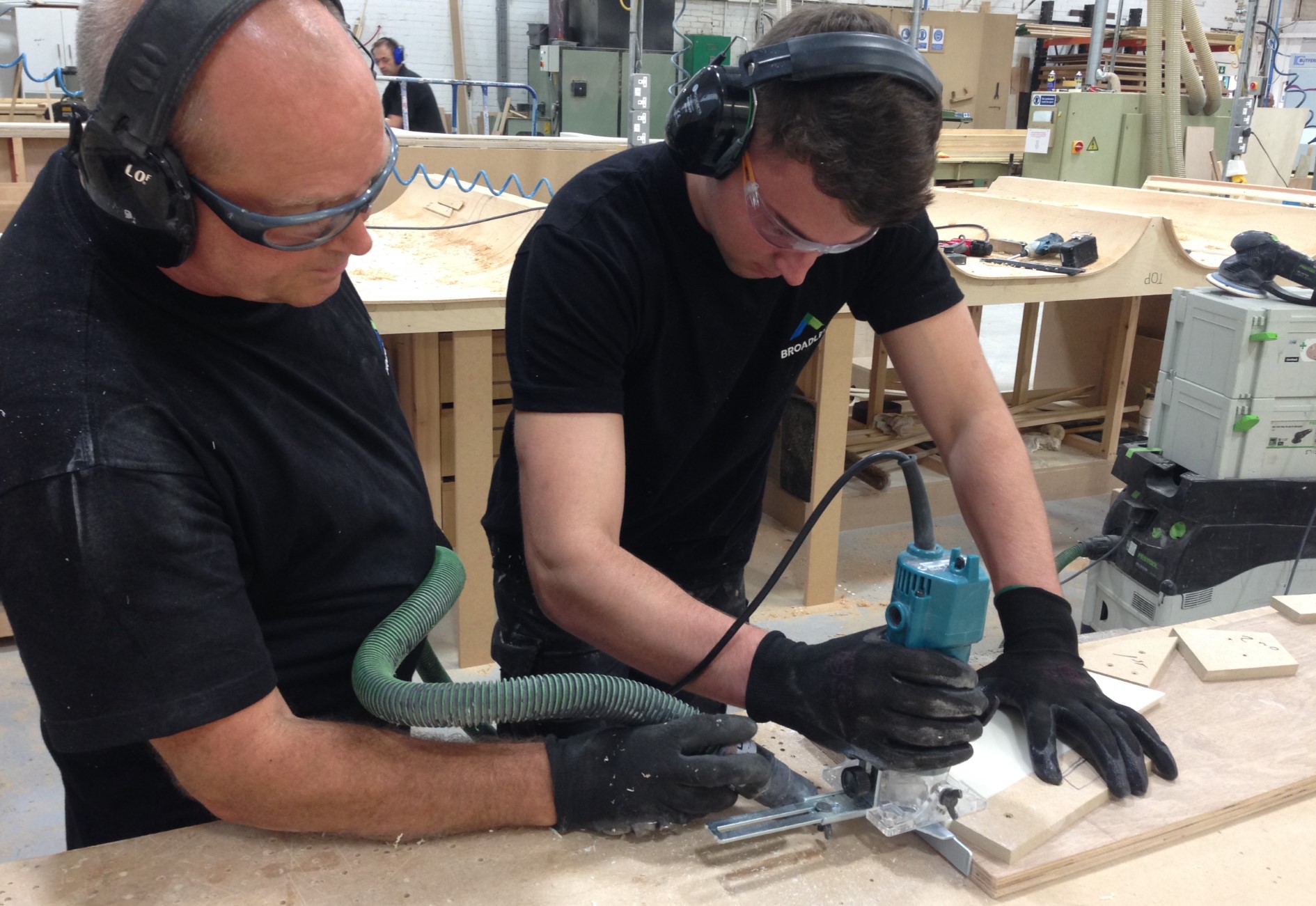 Robust Inductions are given to all the team and updates to ensure the entire team have all the latest information.
They have a safety committee who are responsible for bringing in change by listening to each and every member of the team.
The company have Health & Safety Champions who promote safety in each department.
They have employed 7 apprentices as they understand the importance of learning a true skill on the job as well as attending college.
The future is very bright and safe for the Broadley Team who are proud to deliver top class work, on time, in budget and safely. So they believe the entire team deserve this award.
They are in a brilliant position in the industry and have a confirmed order book for the next 12 months of £30 million, they are working on many prestigious sites for blue chip companies and believe that by having a highly trained team of professionals really helps deliver.
Every one of their employees has a Personal Development Plan in place to ensure they receive the right training.
They have from the top down worked hard at improving and developing their culture – it is very clear that safety is of the highest priority on every site. They have recently had a stand down day where all the workforce came together to reintegrate from the Director and Managing Director the importance of all things safety, environment and quality! It was very well received by all and they had everyone giving their input.
Broadley have recently taken on a flagship project in Alderley Edge and the team there are leading by example and are using the site as a training facility for all their managers. It has the highest spec of welfare, even a picnic garden area for employees and subcontractors to relax in their lunch break. There are dedicated areas that you walk through to access site which gives daily briefings on exactly what is happening on site that day, it also shows a timeline indicating exactly where the project is. The approach on this site is very forward thinking and the client Bruntwood is working closely with us on this.
Broadley's Site Managers in particular are their champions and leading the charge – they have a friendly competition between themselves who has the best site set up and who is leading on safety scores – each site is audited on a weekly basis and the entire team on each site really works hard to be the best. This really is helping push the bar high!! The directors fully support them in this allowing bigger budgets for site set up as they too can see the difference this is making.
On each site they now have a health section which has posters and campaigns for heart health, cancers, diabetes, stress – it is amazing how many operatives have commented on this and how it makes them think about their health. The company feel that if this helps one person or persuades someone who may be experiencing symptoms to go to their GP to get checked out it is worthwhile.
Clients are regularly commenting on their forward thinking on site and in the offices and many subcontractors have adopted Broadley's policies where the resources are gladly shared with them.
The manufacturing area has had a new extraction system, spray booth, equipment, storage facility all installed in the last 12 months to ensure the working area is to the highest standard, many have commented how fantastic it is and what a pleasure it is to come to work.
The entire workforce has had a say in PPE choice and they spend far more money than ever on individual pieces of PPE but these are being used and looked after, so well worth the initial investment. The operatives truly have the best kit available.
The Health & Safety Hero award recognises an individual or collective effort to improve Health and Safety Performance in your business. The Award is part of our wider Health & Safety Hero Campaign for the woodworking industry.
It couldn't be easier to commit to change. BWF members can sign the Pledge and our dedicated H&S Hero Co-ordinator will be in touch to introduce the process – you will have support throughout via the helpline. There are no additional fees for BWF Members signing up to the H&S Hero Campaign, this is about industry improvement.