The BWF Health & Safety Hero Campaign – an Overview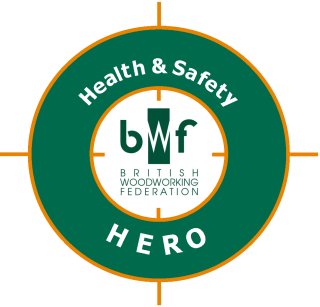 The woodworking industry has one of the highest rates of accidents in manufacturing and this is not a statistic to be proud of. The aim of the BWF Health & Safety Hero campaign is to achieve zero tolerance in respect of fatal injuries, RIDDOR related incidents and occupational ill health incidents.
With fees for intervention changing the way that the HSE is interacting with the woodworking sector and fines/consultancy fees starting to hit companies, we need to respond and step-up as an industry. This however is only part of the reason why we are working at on new Health & Safety services to extend the BWF's commitment to help members improve their businesses.
This time the focus is CULTURAL CHANGE. But how are we this change?
We are seeking the backing of the woodworking industry. That's why we are asking all BWF members to pledge their commitment to make their health and safety systems and processes robust with a zero tolerance of accidents and health issues in the workplace.
We will encourage member to fostering cultural change in the workplace – no more "we have always done it this way"
Accepting that this sort of safety culture doesn't happen overnight – the BWF will encourage everyone involved to embrace health and safety, buy into the process, and accept their legal and moral responsibilities.
How are we going accomplish this? By:
Providing training and education
Increased and promotion
Providing better guidance
Thereby reminding our members that:
the attitudes and decisions of senior management are critical in setting the priorities of their organisation
at senior management level, they need to know and must want to hear what is really happening in the workplace
they need to want their employees to work safely and comply with the rules, but also want them to show initiative and be proactive in improving health and safety
health and safety should not viewed as a separate function, but as an integral part of productivity, competitiveness and profitability
It couldn't be easier to commit to change. BWF members can sign the Pledge and our dedicated H&S Hero Co-ordinator will be in touch to introduce the process – you will have support throughout via the helpline. There are no additional fees for BWF Members signing up to the H&S Hero Campaign, this is about industry improvement.