Case Study: Heron Joinery – Improvement projects taking place within new factory site
Shortlist entry: BWF Health & Safety Hero Award sponsored by Didac
Project: Improvement projects taking place within new factory site
BWF Member Firm: Heron Joinery
Type of work/product(s) produced: Bespoke external wood windows and doors
Established back in 1950, Heron Joinery is renowned for their range of bespoke external wood windows and doors, covering everything from casement, fully reversible and dual swing windows, along with residential single opening doors, bi-folding doors to lift and slide doors. They additionally offer a wide range of extras, such as fully glazed and factory finished coatings and slim line glazing, also a choice of finishes in wood stain or paint colour or a combination of colours.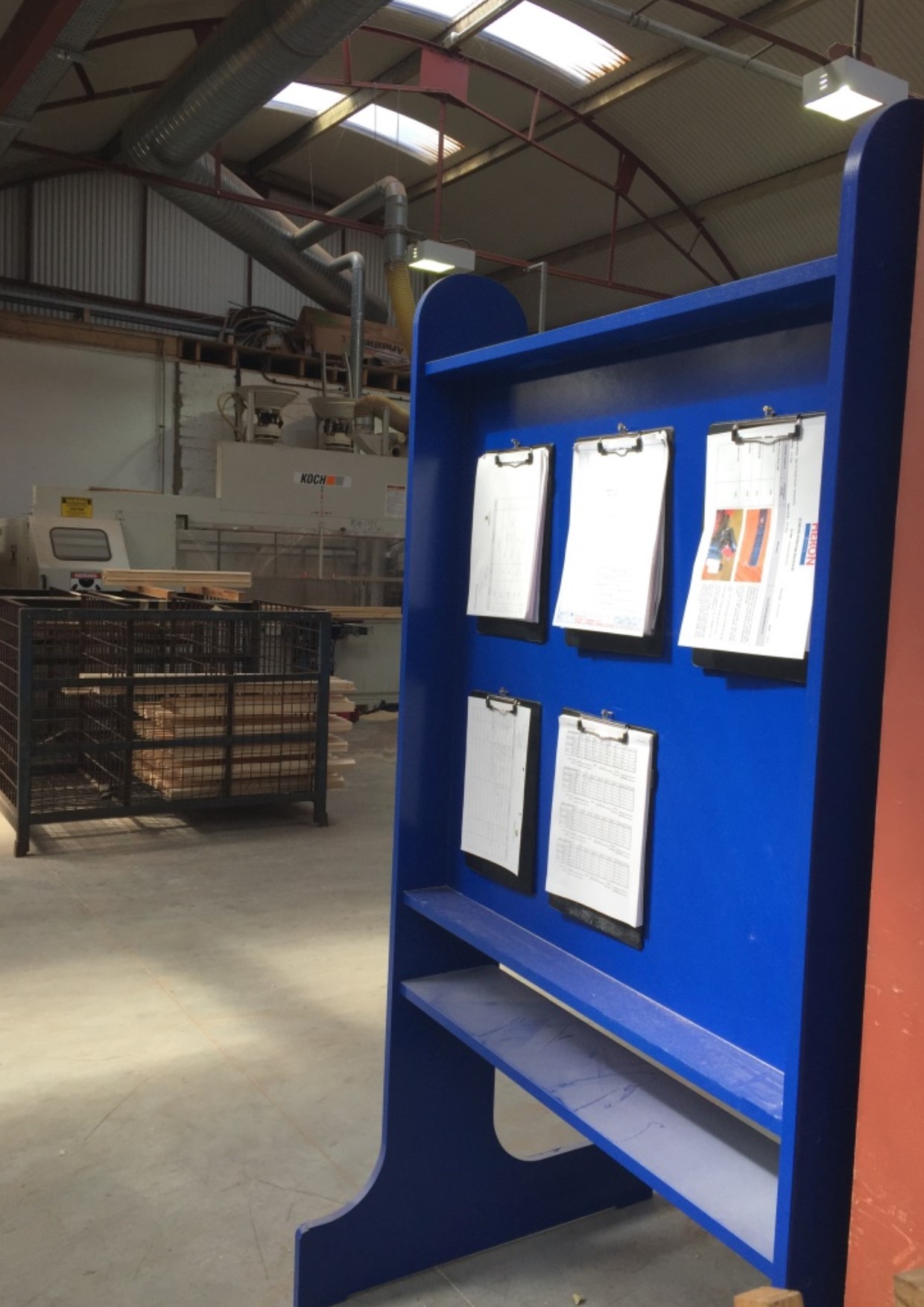 Their on-going philosophy of continuous improvement is further supported by invest in new product technology and Heron Joinery has invested £3 million in a state-of-the-art new factory with high spec equipment and the very latest technology to ensure a range of both internally and glazed window and door options that suit the needs of all premise types, along with staff and employee development for understanding of the same.
Their commitment has led to a number of improvements projects taking place.
Implementation of the 5S's
Storage solutions play an important part in implementing waste elimination, one of the key pillars of the 5S. Heron Joinery have worked as a team in each area to understand the best practice for each operation. The teams have undertaken marking out the factory with lines for set down areas. They have also zoned off machines and created a walkway around the factory. Safety and good housekeeping principles particularly are important when it comes to storage and flow of product. Their solutions give the ability to store many items close to the operation, and a visual labelling system makes it easy, quick and safe to store, find and organize produce. Other benefits of implementing the 5S's includes freeing up floor space, eliminating tripping hazards and clutter and improve visual management.
Standard Operating procedures (SOP)
The safety precautions presented on the standard operating procedures typically are those resulting from the risk assessment process. They have worked with their staff to come with a structured approach of SOP in a set of written instructions that document a routine or repetitive activity. The SOPs detail how activities should be carried out to minimise risk and are also used for staff training. Daily checks are also in place in which the operator has to go through and sign off on a number of operational checks.
New Risk Assessment Format
The risk assessment process reviews the severity of occurrence (the possible injuries or damage to health that may occur if the potential risk actually happened) By multiplying the Probability (likelihood) against the Severity (impact) they came up with a score system. Elimination and prevention of risks are the preferred activities, with provision of personal protective equipment considered short-term measures.
External Consultant – Health & Safety Audits
The Health and safety audits ensure compliance with all current legislation related to health and safety at work. It is normally a critical, in-depth examination of the factory's health and safety management system. The audit covers the whole system and gives in-depth experience to aspects, such as risk assessment procedures, issue and control of personal protective equipment etc.
The audit is carried out every 3 months and provides Heron Joinery a clear picture of their performance in terms of health and safety management. As a result, remedial actions can be taken before incidents occur. This audit will highlight all positive and negative aspects of health and safety at the workplace.
Summary
In summary Heron Joinery is embracing a culture change in which the participation of team members is proving invaluable. With the extensive knowledge that their employees have, combined with a structured framework, it will allow Heron Joinery to move forward and aim towards the automobile/aerospace industry standards of health and safety.
Giving back to their employees
Heron Joinery enrolled their employees in the Farm Families Health Checks Programme. This entailed on-the-spot health checks consisting of Blood Pressure monitoring, BMI, cholesterol check and diabetic screening. In addition, individual lifestyle advice will be given on a range of health issues.
They have taken part in the Pound for Pound challenge in which employees where challenged to lose weight and in turn the company paid a pound for every pound lost. It was in place to kick-start lifestyle improvements that will improve long-term health and wellbeing through healthy nutrition and regular exercise.
Other staff awareness included Alcohol and Drugs Awareness. The aim of Alcohol and Drugs Awareness was to get people thinking about alcohol and drugs – how it affects us as individuals, families, communities and society as a whole.
As a company Heron Joinery have also given the opportunity for employers to sign up to personal health insurance.
The Health & Safety Hero award recognises an individual or collective effort to improve Health and Safety Performance in your business. The Award is part of our wider Health & Safety Hero Campaign for the woodworking industry.
It couldn't be easier to commit to change. BWF members can sign the Pledge and our dedicated H&S Hero Co-ordinator will be in touch to introduce the process – you will have support throughout via the helpline. There are no additional fees for BWF Members signing up to the H&S Hero Campaign, this is about industry improvement.