UK Wood and Timber Industry Associations Sign Accord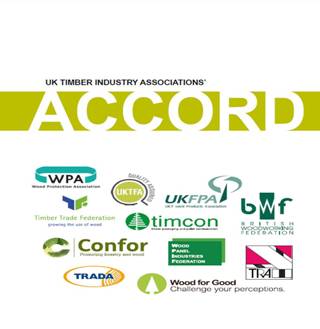 Common Goals and Objectives Agreed for Industry to "act as one"
The eleven trade bodies representing the supply chain of the forestry, timber and wood industries have signed an historic Industry Accord in order to improve competitiveness and performance across the sector.
The Accord was signed at the Building Centre in London by the Chief Executives of each of the Associations. It commits each to working together in areas of common interest and strategic goals, in particular to ensure that stakeholders see a joined up, collaborative approach and that best use is made of available funding and resources.
Implicit in this objective is an industry focus on customer needs and a drive for continual improvement in performance. The Accord establishes a framework and methods of working between the signatories to achieve its objectives.
Iain McIlwee, Chief Executive of the British Woodworking Federation, said: "With a turnover of £10 billion, the timber sector is a vital part of our economy and a highly valuable part of the carbon economy. The timing is perfect, following the excellent Independent Forestry Panel report, which clearly positions timber at the heart of our nation's environmental agenda, we are seeing a firm commitment from the supply chain to adopt a more strategic approach to meeting the challenges we all face and to develop consistent messages that will ensure our voice is amplified and our reach extended. I am excited by the opportunities this brings and hope that others will rally to the cause."The Three Accord Principles:
The signatories of the UK Timber Industries Associations' Accord agree to:
1. Work together on timber representation, promotion and market development activity whenever it is feasible to do so. The timber industry needs to work together in complementary and mutually supportive ways to achieve maximum impact from its resources.
2. Endorse and support to the best of their abilities any initiative by any signatory to this Accord that is in line with this objective.
3. Recognise the close relationship that each signatory has with its own community and to use these close relationships to best effect when planning and undertaking any new initiative or activity. Signatories undertake to consider the opportunities from working with others in order to share resources and costs and to extend outreach and impact.
The Signatories of the Accord are:
Iain Mcilwee, Chief Executive, British Woodworking Federation;
Stuart Goodall, Chief Executive Confor;
John Dye, President Timber Packaging and Pallet Confederation
Andrew Abbott, Chief Executive, Timber Research and Development Association (TRADA)
John White, Chief Executive, Timber Trade Federation
Nick Boulton, Director, Trussed Rafter Association
David Sulman, Director, UK Forest Products Association
Andrew Carpenter, Chief Executive, UK Timber Frame Association
David Hopkins, Director, Wood for Good
Alastair Kerr, Director General, Wood Panel Industries Federation
Steve Young, Wood Protection Association & Timber Cladding and Decking Association