Apprentice of the Year Award

The Apprentice of the Year Award celebrates the success of the rising stars of the joinery industry. The award is kindly sponsored by CITB
The award recognises apprentices that have really stood out during their time with a joinery company. They may have achieved some fantastic feats in their work, or show extraordinary commitment that really adds value to a company's workforce or the production.
Entries are open to any apprentice (that is undertaking external training/qualifications, or has done recently) that is employed within a joinery company, and will recognise outstanding achievement, commitment, adding value to the apprentice's company, and personal development.
The 2017 British Woodworking Federation Awards winners were announced at the BWF Annual Dinner & Awards which took place on Friday 24th November at the fantastic Drapers' Hall, London. Here you can read about the fantastic winning entries and view photos of the event.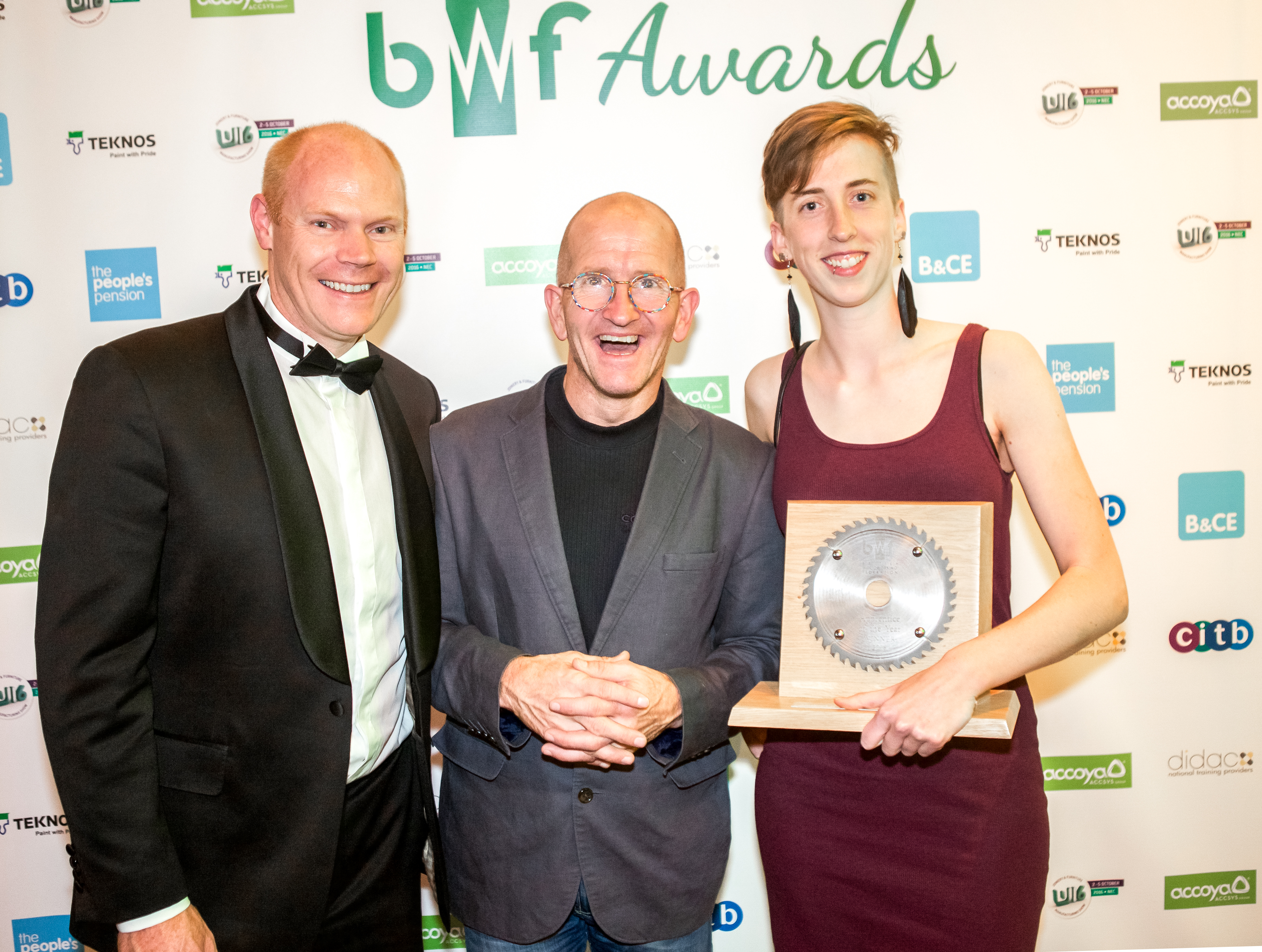 The winner of BWF Apprentice of the year 2016 was Imogen Davis (Law & Lewis Joinery of Cambridge Ltd) (pictured)
Judging Criteria
The award will be judged against the following criteria:
• Outstanding achievement – quality of workmanship
• Commitment – good timekeeping and attitude
• Adding value – the use of initiative to improve workplace processes and/or quality
• Personal development – how the apprentice/trainee has benefited from his/her training in terms of maturity and workmanship
Shortlisted entries in this category will be given two complimentary tickets for themselves and a guest (accompanying guest must be over 18 if the apprentice is under 18).
Previous Winners of the Award
2015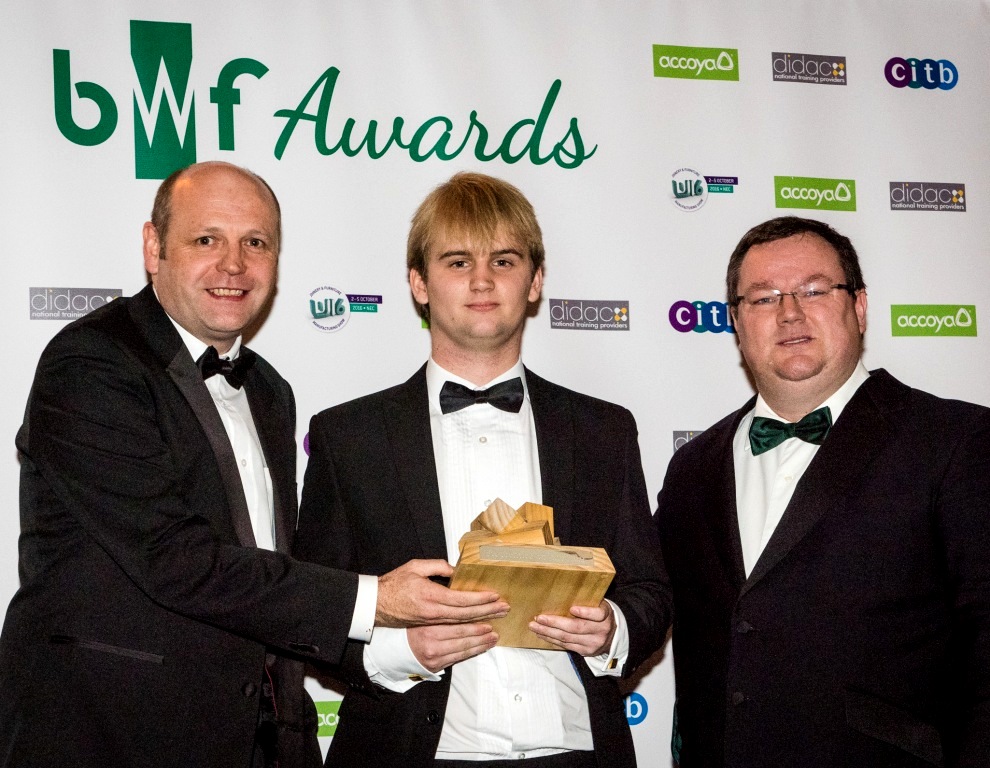 Joe Handy of West Oak Joinery Ltd was awarded Apprentice of the Year (kindly sponsored by CITB). After completing his school work experience at West Oak Joinery, Joe went on to begin his apprenticeship when he left school at 16. Judges said: "the quality of his workmanship has been second-to-none, showing skill and knowledge from the interpretation of drawings and design, mastering complex production of panels, sashes, kite and winder stairs, and curved oak frames, to name a few. He is maturing well beyond his years, and is now an integral and vital part of the team."
2014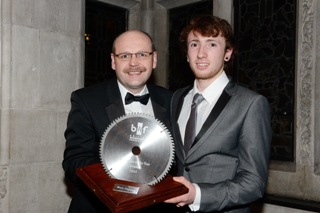 Ben James, 20, has worked at Tompkins Joinery for four years, starting as a work experience student there before going on to complete his apprenticeship and achieve NVQ Level 3 and Diploma Level 3.
He has already completed a few high profile projects of his own, including the joinery for Dallas Burston Polo Club, the prestigious polo ground based in Southam, Warwickshire.
It is probably unsurprising that Ben has done so well at Tompkins, as he has been mentored by Tom McKillop, another outstanding member of staff at Tompkins who was the inspiration behind the BWF's award-winning 'Wow I Made That!' campaign to attract more young people into the joinery industry. Ben also said he took inspiration from his grandfather, a handyman who was always creating things out of wood.
Ben is a genuine high achiever. Although he didn't enjoy school, he became Deputy Head Boy, and he also now coaches an Under 14s football team as well as helping to run and raise funds for the Gary Barton Memorial Trust, a cancer charity set up in memory of his uncle.
Andy Tompkins, owner of Daventry-based Tomkins Joinery, said: "If something needs doing, Ben is there. He gets in early to start work and stays until the job is done. Attitude is everything, and Ben's approach to his work is simply excellent."
Dave Campbell, manager of the Woodworking Industry Training Forum (WITForum), the training arm of the BWF, said: "Ben has produced some very high quality work for someone at apprentice level, and he is regularly stepping up to take full responsibility for projects.
"Apprentices like Ben are the jewel in the crown for British joinery manufacturing and woodworking.  Our industry has earned one of the best reputations for training across both the construction and manufacturing sectors. Year after year, supported by the CITB, we consistently rank first or second in construction for apprentice numbers and the claiming of grants for training. We fully expect to see more rising stars like Ben."
2012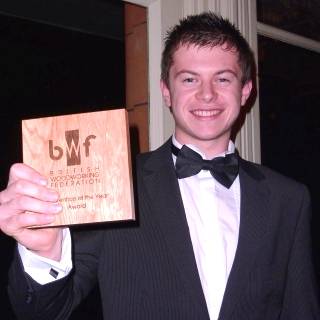 Chris Lake  – 18 year old Chris Lake, apprentice joiner at GS Haydon & Son Ltd in South Molton, Devon has won the 2012 Apprentice of the Year Award. It was presented at the glittering BWF Annual Dinner & Awards Ceremony held at Lord's Cricket Ground in London.
He was praised by his employer Graham Haydon, MD of GS Haydon & Son Ltd:
"Chris showed promise from the beginning, even in the professional manner of his CV. Since he has started with us, Chris has shown an impressive work ethic, the right attitudes and aptitudes. Learning the basics fast, he has quickly moved onto more complex tasks and he is assisting other team members with their work.
"Chris put himself forward to work on some complex jobs here, and he has really done well. One of our clients praised him too, commending Chris's attitude and high standard of workmanship on a tricky stair restoration project. We have high hopes for this young man who will become a highly skilled joiner and a valued member of our team."
2008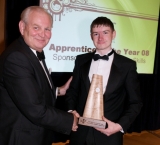 Ryan Cassidy – 21 year old Ryan Cassidy, of Woodbase Joiners Limited in Westfield, East Sussex. Ryan was admired for his commitment, loyalty and developing skills.
Simon Bartlett of Woodbase Joiners Limited, who nominated Ryan for the Award, was delighted with his success. "This is very well deserved" he said. "Ryan has been a real credit to our business and I believe he has a very bright future. He has exceptional talent and has all the attributes required to make him an outstanding craftsman."It was last awarded in 2008 to Ryan Cassidy of Woodbase Joinery, based in Hastings.
Sponsored by: