CE Marking windows and external doorsets – what should I specify?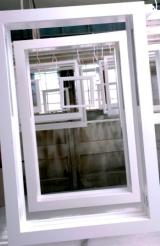 On 1 July 2013 certain construction products began to bear the CE mark. Most of us will not fully understand this symbol, though it is a familiar one. In fact, the mark is so common that you have probably ceased to pay attention to it. If you look carefully at random objects from your home or business you are sure to find many examples on anything from light bulbs to children's toys.
CE marking demonstrates that a product satisfies very general legislative requirements. It is mandatory for chosen product categories that are subject to certain EU rules, typically because they are used in potentially hazardous situations. The latest category to be included is construction products.
When is CE Marking coming in for Windows and External Doorsets and what will this mean?
With the introduction of the Construction Products Regulation (CPR) on 1 July 2013, it is likely that any timber windows or external doorsets you specify will need to be CE marked. The CPR will help specifiers more easily compare a construction product's performance, including windows and doorsets, as manufacturers are required to declare information about their products in a standardised format and label with the CE mark.   Below is some guidance for architects and specifiers on how to specify compliant products for your projects.
If you are specifying complete windows and external doorsets, that is, glazed windows, and doorsets with the leaves hung in their frame, in almost all cases, these will need to be CE marked. There will be only a few occasions where CE marking will not be required and these will be limited to building work which is exempt from complying with the Building Regulations and then for products which are 'bespoke', a unique design of window or doorset, and which are supplied for inclusion in only one building project.
What does the manufacturer need to provide me or my client?
For each CE marked product the manufacturer will need to produce a Declaration of Performance (DoP) document that outlines how the product performs in relation to the 'essential characteristics' (8 for windows and 11 for doorsets). While all of these characteristics must be listed on the DoP, only three are required to have a value against them as they are either a regulated characteristic in the UK, or the Product Standard requires a threshold level of performance to be met.These characteristics are the thermal transmittance (U-value), a declaration of dangerous substances and the load bearing capacity of safety devices. Where manufacturers have evidence of the other characteristics, they will include them on the DoP. Manufacturers make the DoP to you – some will have them on their website, others may send you them by email, post or other means.
Will the product need to bear the CE Mark?
The CE mark must be either on the product itself or on a label attached to the product. If on the product, this could be on the glass (but don't confuse it with the glazing's own CE marking), or hidden in the close of a window or on the frame of a doorset. Any windows or doorsets that are purchased (i.e. money exchanging hands) before 1 July do not require the CE mark, but after this – regardless of the project start date – the product must be CE marked.
The new regulations also include other wood products including wood flooring, garage doors, shutters, gates, cladding and panelling – essentially, any product with harmonised European standard.  It does not currently include internal standard or fire-rated doorsets.
Where can I get further guidance on CE Marking and where can I find a manufacturer?
If you have more questions about specifying CE marked joinery products, BWF Members have been receiving regular updates on CE Marking for the past two years and should be able to assist you with enquiries or please contact our free specifiers helpline on 0844 209 2614/5.
Remember, all BWF members are assessed against the BWF's Code of Conduct, which provides a rigorous set of standards of workmanship, company stewardship and environmental disciplines. To 'find a supplier' of joinery products that meets the standards set down in the code, visit the BWF homepage and use the search box.