Wood Waste & Resource Efficiency (elearning)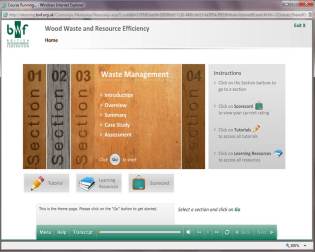 The module will equip joinery firms to use their timber resources more efficiency and reduce their wood waste. It is aimed primarily as managers within joinery manufacturers of all sizes, but will be beneficial to any member of staff involved in procurement and waste management. The module is also useful for those involved with the supply of timber.
Aims
to explain what your company can do to reduce and minimise waste
How to improve the re-use and recycling of waste materials
to explain the potential markets for wood waste & correct disposal at the end-of-life
providing you with the tools to set up your own waste management plan and simple waste management systems
The course will cover three key areas and will focus on answering the following questions:
Prevention MinimisationHow can we prevent waste?
Are there better ways of using the timber we buy & reducing the waste we produce?
ManagementHow do we manage waste now?
What can we do to improve?
DisposalCan we re-use/recycle waste?
Can we use waste in energy recovery?
What about old wood products?
The learning is very interactive and all information is supported by additional tutorials and learning resources, including literature, case studies or real joinery firms, and other online resources.
You will be presented with learning scenarios which will allow you to test your knowledge, allowing you to refresh your knowledge using the range of resources within the module.
Each section will also assess your knowledge where you will aim for a green rating. Where your knowledge is lacking you will be able to retake your assessments. On successful completion of all sections with a pass, you will be issued with a certificate for your training records.
Length of Course
As this is e-learning, the length of the course will vary from learner to learner, but should take somewhere between 10-25 hours to complete.
How to Enroll
All BWF members have already been issued with a log in for the BWF Online Training Academy where this module can be taken, but additional learners from each company can be added by contacting us on 0844 815 9981 or email: bwf@bwf.org.uk