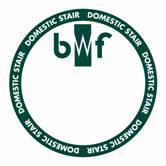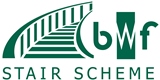 The BWF Stair Scheme is the only accreditation and certification scheme of its kind in the UK. Ranging from domestic, common and fire protected common stairs, the standard expected of the manufacturers for their stairs is extremely high to ensure quality and safety.
The scheme now represents approximately 70% of the timber stair market, bringing together like-minded manufacturers who are committed to driving up standards in timber stairs to make the industry more competitive against rival materials and increase market share.
See a list of the BWF Stair Scheme Members
Ensuring High Standards
All companies within the scheme are regularly audited to ensure their products and their production meet these high standards, and fire tested for fire protected common stairs.
The scheme is managed by the BWF, and includes manufacturers, as well as approved suppliers, who play an important part in maintaining these standards.
Watch this video about why Building Control Professionals are behind the BWF Stair Scheme
The Problem in the Stair Market
Stairs remain one of the most common areas for accidents with over 800 recorded deaths attributed to slips trips and falls on staircases every year in the UK.  BWF members continue to report problems within the staircase market which undermine them as quality manufacturers.
The technical requirements for timber stairs are complex and difficult to interpret and so prone to being ignored.  The fact that the main British Standard is now obsolescent only makes things worse.
There is no straightforward method for Building Control or NHBC to verify that a stair has been manufactured correctly and complies with the relevant standards and building regulations.
The increasing use of timber stairs in multi-storey, multi-occupancy buildings (blocks of flats) brings this into sharp focus.  If a stair failed during an emergency evacuation, the consequences would be devastating.
BWF Technical Manager Kevin Underwood explains the features of safe stair design.
The Solution: The BWF Stair Scheme
The BWF Stair Scheme is focussed on promoting effective design, reliable manufacture, developing guidance where standards and regulations are in conflict, and ensuring best practice advice is passed to installers to reassure that products made by BWF accredited stair manufacturers consistently meet the relevant performance requirements for:
Loading
Deflection
Fire resistance (where appropriate)
Accreditation means that every Scheme member's design process and manufacturing operation has been independently verified and all members are required to meet the standards laid down by the BWF Code of Conduct.  Members receive an audit visit on application and audited biennially from then on.  BWF does not offer any guarantee on members work and cannot accept responsibility for any works undertaken by members of the scheme.  If a problem arises we do have a dispute resolution process and details can be provided via bwf@bwf.org.uk
It is recognised that a manufacturer is only responsible (unless otherwise stated) for the product provided and advice and design (as approprite) and cannot be held liable should the stair be installed badly by a third party or a henceforth unknown or subsequent decision by an external party could render the installation incompliant with current regulation.  The BWF Stair Scheme does not accredit installation, however, to support the supply chain guidance is available on the installation of staircases.
Our latest BWF Stair Scheme Fact Card (PDF) is available and Download the Stair Installation Guide: Top 10 Tips (PDF)
You can also view the BWF Stair Seminar Presentation that took place in March 2012 (PDF; 7.2MB)
Our Aims:
To give confidence to building control bodies and other regulators, specifiers, clients, contractors and building occupants.
To discourage, and work towards the elimination of, the supply and installation of stairs which do not meet the required standards.
To protect and increase the UK market for timber stairs.
To help Scheme members increase their market share, sales and profitability.
To ensure that the BWF is recognised as the authority on stairs.
Benefits of the Scheme:
It will contribute to building safety, particularly by ensuring that building occupants can escape safely in emergencies.
It will differentiate well-manufactured, design-tested stairs from inferior, possibly non-compliant, competitors.
It will assist Building Control inspections and remove the requests for on-site loading tests.
It will promote the use of timber stairs in multi-occupancy dwellings.
It will support and assist Scheme members in preparing for the introduction of the requirement to CE mark stairs.
It will increase sales and profitability of quality timber stairs manufactured by BWF members.