What is Chain of Custody?
Chain of Custody (COC) Certification is a process of ensuring that a forest product has come from a legal, responsible source. It is a link from the initial logging stage, through the supply chain, potentially ending with the joinery company. Even if you used certified timber, you can only claim to be passing on a COC product if you are a certified link in the chain. If you are not, then you break the link. By having COC, you allow an environmentally conscious potential customer to make an informed choice and uphold the position of timber as the most sustainable mainstream construction material.
Why undertake Chain of Custody Certification?
Over 70% of timber brought into the UK is now legal, and responsibly sourced, with nearly 2000 companies having achieved COC Certification. The demand for certified timber is increasing as more and more contractors, house builders and government projects insisting on it. FSC and PEFC certification can also go some way to ensuring that you meet the due diligence criteria required under the EU timber regulations for 'operators' placing their timber and timber products on the EU market.
SEE OUR AUDIO PRESENTATION & SLIDESHOW: 'CHAIN OF CUSTODY AND EU TIMBER REGULATIONS EXPLAINED'
What are FSC and PEFC?

The Forest Stewardship Council (FSC) is an international network designed to promote responsible management of the world's forests. It was established in the mid 1990s. Over 130 million hectares of forest in over 80 countries are certified over 19000 companies have FSC COC certification.

The Programme for the Endorsement of Forest Certification (PEFC) is a framework for the recognition of forest certification schemes meeting internationally recognised requirements for sustainable forest management. Launched in 1999, PEFC accounts for more than 220m hectares of forest and 6000 COC certificates.
What is involved?
Implementing a COC process is a fairly straightforward task that relies on everybody in a company taking responsibility for maintaining the integrity of the chain. The basis for COC is that you manage your supply of timber in a way that identifies certified timber from any non-certified timber.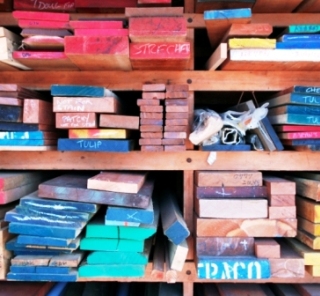 To start with, you must buy from companies that can supply FSC or PEFC timber. When that timber arrives at your workplace, everybody involved in checking goods in must see that it is accompanied by the correct paperwork. The timber must then be stored and managed separately from any other non-certificated timber.
When a customer asks for FSC or PEFC products, this must appear on all of your internal paperwork. When the product is assembled ready for despatch, delivery notes and invoices must include the COC codes and a description of the certificated product.
How can BWF help my business get certification?
The BWF has set up a Group COC Scheme for companies with 15 employees or fewer wanting FSC certification or with 50 employees or fewer wanting PEFC certification. The scheme is able to offer both FSC and PEFC certifications, and is not limited to just joinery manufacturers.
DOWNLOAD THE BWF GROUP CHAIN OF CUSTODY SCHEME APPLICATION FORM HERE
Under the group Scheme, the BWF is the certificate holder allowing scheme members to use the certificate at a much lower cost that achieving COC independently. The Package includes an experienced consultant visiting your factory to assist you in setting up the procedures required to satisfy the requirements of the Group Scheme and the audits required to achieve and maintain the certification. Yearly audits are required by the BWF's certification partner to maintain your COC Certification.
Having completed the requirements of the Group COC Scheme, you will be allowed to use the FSC and PEFC logos on your products and stationary, which will add credibility to your company. Adding these logos to your quotation will give you a distinct advantage over your competitors who have not achieved COC Certification.
And for larger businesses?
The BWF has put a package in place for companies that have more than 15 employees (or more than 50 in the case of PEFC) and wish to achieve certification. The package includes an experienced consultant visiting your factory to assist you in setting up the procedures required to satisfy the requirements of the COC and the audits required to achieve and maintain the certification.
DOWNLOAD THE BWF CHAIN OF CUSTODY CONSULTANCY APPLICATION FORM HERE
If you wish to use Woodmark for your assessment and certification, BWF has negotiated a reduced fee with them. Applicants who have received consultancy assistance are free to use an alternate certification body if they so wish.