A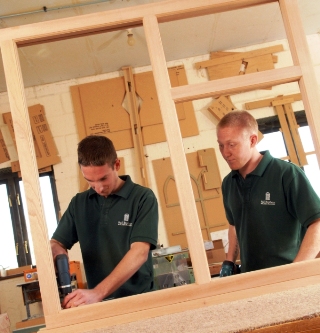 pprenticeships are key to effective training within our industry. The WITForum (Wood Industry Training Board) encourages its members to invest in training, particularly via the apprenticeship route.
What are the benefits for the employer?
Gain funding to train your apprentices (usually full training costs for apprentices aged 16-19 and part funded or supported by learner loans for apprentices aged 20+).
Train the apprentices to meet your business needs.
Encourage loyalty – most qualified apprentices will stay on with you for many years.
Now is the best time to train. Time you spend with your apprentices now and you will have a qualified work force ready for the future.
Businesses that train and invest in apprentices are twice as likely to survive any downturn
Where can an apprentice fit in?
As you know, the woodworking industry is extremely diverse. In has a number of occupations, some site-based, others in a workshop, and like every business has the day-to-day occupations like management, accounts, marketing, sales etc. The industry is predominantly made up of SME businesses, but there are some large players too.
Often when people think of 'woodworking' they think of a carpenter. Here are some of the main 'craft/skilled' occupations within the woodworking sector:
Carpenter – working on construction sites, private housing etc fitting products made by a joiner (see below), such as windows, doors, staircases and internal and architectural joinery. They may also construct some products on-site, although most products are now made and fully-finished in a joinery manufacturer's workshop.
Joiner/Bench Joiner/Architectural Joiner – working mainly in a workshop and making windows, doors, stairs and other products made of wood. Using a range of hand tools and industrial woodworking machinery and will also fully-finish products with materials like paints, wood coatings, glazing and sealants. Some joiners, may also go onto site and fit the products they make.
Woodmachinist – working only in a workshop and will produce components for joinery products. More and more companies are now using computerised machines too, and the machinist will be responsible for both programming using Computer Aided Design (CAD) and operating the machine. While learning wood machining, apprentices will go in much more depth and cover more machines than in Bench Joinery.
Our BWF's member are generally joinery manufacturers, and mainly take on Bench Joinery and Woodmachining apprentices.  It is worth remembering, however that apprenticeships can support wider functions in your business such as admin, sales and finance.
Does the Apprentice Levy affect me
The Apprentice Levy does impact on all companies, but it is only companies with a payroll (as a Group) of more than £3 million.
For more information on the Apprentice Levy, click here
How do I find an apprentice?
There are a number of routes to find apprentices:
1.  Through the CITB using their website BConstructive.
The CITB are the main provider of apprentices in the construction sector as a whole, which includes woodworking. You as an employer can register with them, and will be able to then post an apprenticeship vacancy on their site – the CITB will help match you with the potential apprentice.
Sometimes employers worry that if they take on an apprentice and register with CITB then they will have to pay a fortune in levy.  If your annual wage bill is below £80,000 you will not be liable for any levy and can claim full grants for all apprentices of up to £9,000 (over the length of the apprenticeship). CITB often pays all college/training provider fees (this may be age restricted in some countries) and assistance for travel and accommodation costs may also be available.  The levy you pay CITB should be able to be claimed back through the training of your staff over the year and once in scope opens you up to other possible grants available through the BWF.
Even if you find your apprentice through another route, to be eligible for an automatic grant you need to register your apprentice with CITB, using the bConstructive website.  If you/or your new employee don't register, then your apprentice will not be part of the CITB Managing Agency programme and you will not automatically get a grant.
CITB will complete all the paperwork, undertake health and safety inspections, review the apprentice in the workplace and training centre and provide feedback to you. Apprentice grants are also paid automatically, when the apprentice is appointed through CITB.
2. Register with the government Apprenticeship Service.. In each of the devolved authorities there is an apprentice service, details are available via the specific guides listed beloe.  They provide an apprenticeship matching service for business as a whole, so while not targeted as much as bConstructive (see above), other potential apprentices will be looking on this website to find positions.
Find out more about the National Apprentice Service from the government website, or telephone:  0800 015 0400
3. Contact your local colleges or training providers. Do a search on the internet for colleges and training providers that offer Carpentry/Bench Joinery/Woodmachining, or if you know your local college, contact them about any potential apprentices looking for a position, as they may be able to assist with this process.
4. Through the BWF  You can also advertise your position through the BWF's Wow I Made That Campaign which has been designed to support individuals in choosing a career in woodworking.
More Detailed Guidance
Across the devolved nations there are differences in the funding and process of employing an apprentice, the following guides have been designed to support you wherever you  are:
Apprenticeship Guidance for Employers in England
Apprenticeship Guidance for Employers in Scotland
Apprenticeship Guidance for Employers in Wales