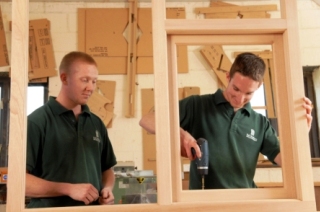 The woodworking industry is extremely diverse. It has a number of occupations, some site-based, others in a workshop, and like every business has the day-to-day occupations like management, accounts, marketing, sales etc. The industry is predominantly made up of small and medium size businesses, but there are some large businesses too.
Often when people think of 'woodworking' they think of a carpenter. Here are some of the main 'craft/skilled' occupations within the woodworking sector:
Carpenter – will work on construction sites, private housing etc fitting products made by a joiner (see below), such as windows, doors, staircases and internal and architectural joinery. They may also construct some products on-site, although most products are now made and fully-finished in a joinery manufacturer's workshop.
Joiner/Bench Joiner/Architectural Joiner – will work mainly in a workshop and will make windows, doors, stairs and other products made of wood. They use a range of hand tools and industrial woodworking machinery and will also fully-finish products with materials like paints, wood coatings, glazing and sealants. Some joiners, particularly in smaller firms, may also go onto site and fit the products they make.
Woodmachinist – will work only in a workshop and will produce components for joinery products. More and more companies are now using computerised machines too, and the machinist will be responsible for both programming using Computer Aided Design (CAD) and operating the machine. While learning wood machining, you will go in much more depth and cover more machines than in Bench Joinery.
The BWF's member companies are joinery manufacturers, and mainly take on Bench Joinery and Woodmachining apprentices.
How do I get an apprenticeship in woodworking?
There are a number of routes to try to get your apprenticeship in the woodworking industry:
1. Register with the CITB on their website BConstructive. Their website is:
The CITB are the main provider of apprentices in the construction sector as a whole, which includes woodworking. The majority of employers in joinery are required to register with them, and will post an apprenticeship vacancy on their site – the CITB will then help match you with a potential employer to start and an apprenticeship.
2. Register with the government Apprenticeship Service (England only). Register here
They provide an apprenticeship matching service for you, so while not targeted as much as BConstructive (see above), other employers in woodworking that are not registered with CITB will use this site to find an apprentice.
3.Contact your local colleges or training providers. Do a search on the internet for colleges and training providers that offer Carpentry/Bench Joinery/Woodmachining, or if you know your local college, contact them about doing an apprenticeship, as they may be able to assist with finding a prospective employer. Remember, college isn't the only way to gain your apprenticeship, private providers also exist, who are often more specialised in their courses, who may be better suited.
4.Contact local woodworking companies to see if they are taking on apprentices. You can use our 'Find a Supplier' search on the homepage of our website and search by postcode to find joinery manufacturers near you, or do an internet search for 'joinery manufacturers', 'joiners', 'carpentry companies' or 'carpenters'.
Once you have registered:
Make sure you have an up-to-date CV, and write a short covering letter. Your letter should outline why you want to work in the industry, what you like about it, and why you are passionate about becoming an apprentice. Get your CV and letter checked by a friend or family member and send it by email or post to the companies you have found or have it ready for an interview. For those companies you have sent your CV to, follow up with a phone call a few days later.
What can you earn as a joiner?
An apprentice bench joiner or wood machinist can earn about £15,000-£24,000 a year. When you qualify you'll start earning from around £18,000 and go up to about £35,000-£40,000 after many years of experience.
 Where to go from here:
Joiners create and produce all kinds of objects and installations using wood and wood-based products. As apprentice joiner Tom McKillop says: "I like to stand back at the end of the day and say 'I made that!'".
The 'Wow I made that!' campaign provides lots of additional information, advice and guidance to you as you are interested in a woodworking career in the joinery industry, follow our link or follow our campaign on Facebook!