Apprenticeship Levy – the reforms to funding and how the levy works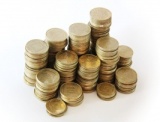 From April, the new Government Apprenticeship Levy will come into play across the UK. If you're company has a payroll of £3m+ you will start paying the levy from your first payroll in April 2017.
If this affects you, then our Apprenticeship levy Webinar is for you, and covers:
· What is the Apprenticeship Levy and how does it work?
· How do you access your levy funds for apprenticeship training?
· What happens if you use all your levy funds?
· How do you register to get your levy funds?
and much more…!
To access the recording of the webinar, or the PowerPoint Slides, please log in below.