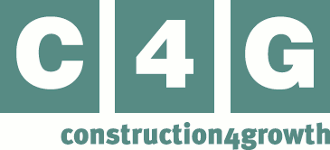 Construction4Growth is an industry campaign calling on Government to invest in construction as the best route out of recession and back to growth. For every pound spent in construction £2.84 is returned to the economy – an industry that accounts for 8% of GDP and a workforce of over 3 million. The right investment in construction now will lead the UK away from decline toward growth and job creation.
That's why industry has launched the C4G campaign, to lobby government to increase investment, develop skills and encourage the green agenda in driving growth through construction.
C4G is campaigning for:
Investing for growth
With £200bn infrastructure investment already pledged the Government urgently needs to get these projects moving to secure the long term growth potential they offer. And by diverting other funds it can also create hundreds of thousands of construction jobs in the short term through new housing and repair and maintenance projects to get Britain working now.
Skilling people for growth
Construction needs new talent to skill up for long term infrastructure projects – and yet this talent is still at primary school. So Government needs to finalise its vocational education policy and support skills and training opportunities in schools, across apprenticeships and into higher-education. It also needs to support the upskilling of the existing workforce to prepare it for new and innovative ways of working – especially the green agenda.
Greening for growth
Reducing the 47% of all UK emissions that stem from construction and the built environment is a priority and the successful roll-out of the Green Deal will create work in new 'green' markets for thousands of Construction SMEs. Government needs to do more to ensure this initiative is implemented to the full.