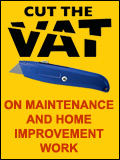 We support a reduction in VAT from 20% to 5% on all home repair, maintenance and improvement work. This targeted VAT cut would bring with it a huge number of economic, social and environmental benefits.

The Cut the VAT Coalition started with 21 varied organisations. Since work began, the EU has changed the law to allow member states to permanently reduce VAT to 5% in this area in order to support economic growth. Support for the campaign now extends to over 50 organisations and countless individuals, including some very senior politicians and well-known celebrities.

Join us in calling on the UK Government to cut VAT on home improvements to 5% in order to:

– Boost the UK economy
– Create thousands of jobs
– Bring thousands of empty properties back into use
– Improve the energy efficiency of our housing stock and reduce the incidence of fuel poverty
– Help those who cannot afford vital repairs to their homes
– Protect consumers and legitimate businesses by significantly reducing the competitive advantage of rogue traders.