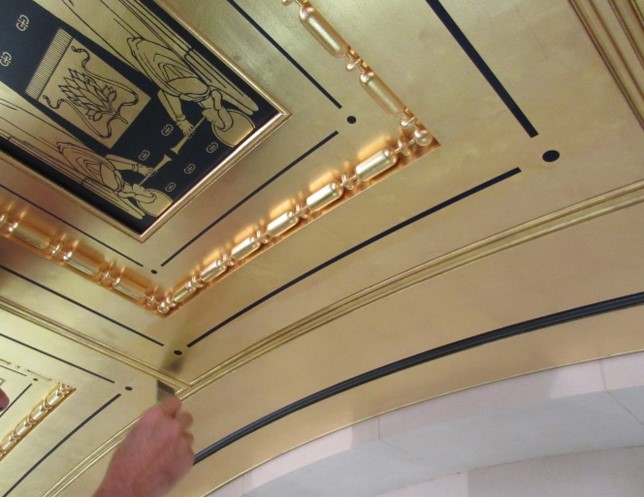 Shortlist: Woodworking Project of the Year Award sponsored by Accoya
Project: For the manufacture and installation of high quality bespoke walnut joinery goods and chapel fittings plus gilded tulipwood ceiling
BWF Member Firm: Houghtons of York
Type of work/product(s) produced: Architectural and general joinery, wood carving, Conservatories, Doors, Fitted furniture and kitchens, Shopfitting, Staircases, Timber frame components, Windows
Houghtons of York were invited to competitively tender for a substantial package of bespoke joinery work as part of the construction of an extraordinary new build chapel designed by Craig Hamilton Architects for a private estate. The exacting work harmonised the use of a wide range of traditional skills, modern technology, artistic flair with immense precision and attention to detail.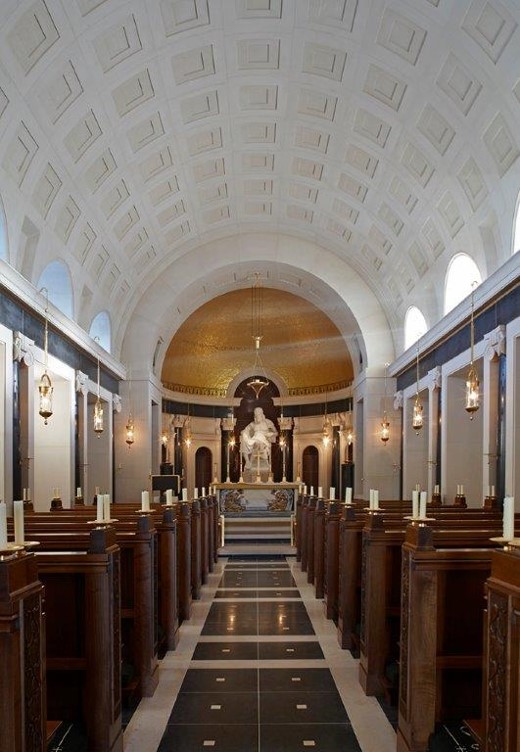 The craft skills required to complete the package of work was formed by a close team of Joiners, Wood Machinists, Wood Carvers, French Polishers, Gilders, Veneer & Inlay specialists all working in close harmony.
The works encompassed the following –
French polished walnut pews and kneelers each with Swiss Pear inlay and hand carved detailing.
Priests Chair & Inlayed walnut stools and stacking chairs.
Polished Walnut coffered ceiling with gilded and carved details.
Polished Prie-Dieu.
Gilded Tulipwood Reredos / Aedicule.
Polished walnut organ casing – liaising with London based Mander Organs.
Vaulted, gilded Tulipwood organ loft ceiling.
Inlayed, French polished walnut doors.
Numerous casting patterns for bronze items such as – light fittings, door handles, doors, crypt screen, keys, cistern brackets etc.…..
It was the clients and Architects wishes that the items were manufacture in a traditional manner using solid timber wherever possible.
Houghtons of York completed the project to a fixed programme with no overruns.
The Woodworking Project of the Year Award recognises the very best in design, application or ability in joinery manufacture. The award was set up in memory of John Hedgecock, the former technical director at the BWF. It is a fitting tribute to a man whose dedication and knowledge of woodworking and joinery manufacturing was second to none.
The award recognises innovative, complex or simply beautiful projects and rewards excellence in our industry, providing the opportunity for UK woodworking companies to receive special recognition for exceptional technical achievement, design or innovation in joinery manufacture.