Case Study: Windmill Conversion
Shortlist: Woodworking Project of the Year Award sponsored by Accoya
Project: A new cap based on the traditional 'inverted boat' form to sit on a windmill base
BWF Member Firm: A J Laminated Beams (Partner Company to A J Joinery)
Type of work/products produced: Glulam structures, including cutting of beams, bevel at beam end, end slot, groove, half lapped connections, saddle, tenon, holes, drilling, milling, glued in rods, apex bracket and falls
Cockfield Windmill, situated in the heart of the Suffolk countryside, was a former windmill structure recently converted to accommodation for holiday lets. Before it was converted, the structure was just a mill stump constructed of brick with a traditional tar coating which no longer had its sails or cap.
Beech Architects were the architects involved in this interesting, yet challenging project, where the client wanted a new cap based on the traditional 'inverted boat' form, exploiting the stunning views over the Suffolk countryside.
Beech Architects contacted AJ Laminated Beams looking for a solution using engineered wood to create the curves for the cap of the windmill. AJ Laminated Beams, in turn, contacted Metsä Wood to see if Kerto® LVL would be suitable.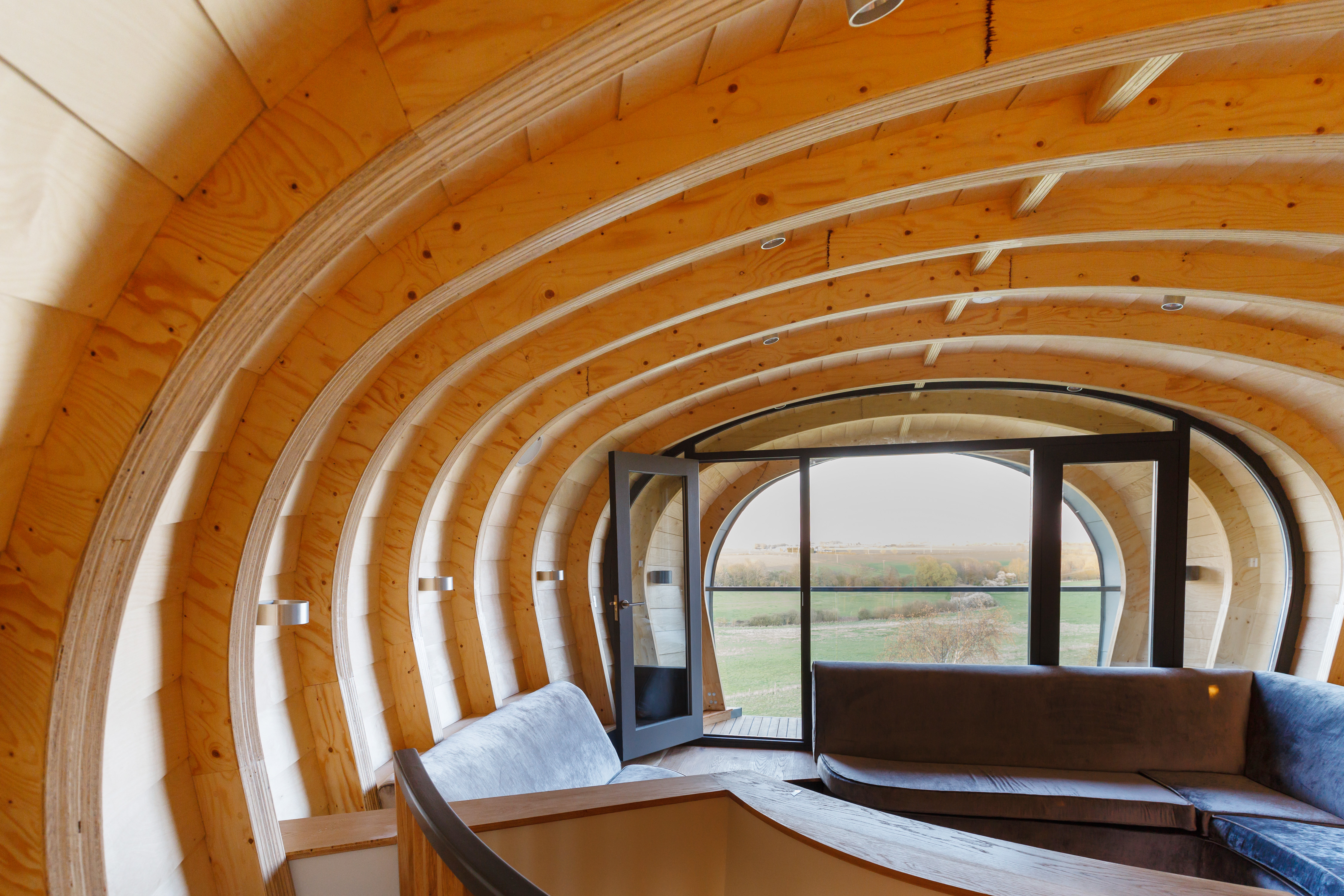 Kerto® is a laminated veneer lumber (LVL) product used in all types of construction. It is produced from 3mm thick rotary-peeled softwood veneers that are glued together to form a continuous sheet which makes it incredibly strong and dimensionally stable. The Kerto product range includes both Kerto-S, generally used for beams and Kerto-Q, generally used for roof decks etc.
Mike Wells, owner of AJ Laminated Beams commented "Kerto is a product we have used for many years and I don't believe it has reached its full potential yet in all the applications it can be used in."
Metsä Wood recommended the use of Kerto-Q to form the curved rib structure with each rib having a different shape and size to form the inverted boat. AJ Laminated Beams, first cut the arch shapes from the Kerto-Q sheets and then glued and screwed them together to form solid arches.
Mr Wells stated "The joints were designed with a mechanical fixing. As an extra precaution, we glued the laminations together using Cascamite glue to give as much stiffness in each joint as possible."
The cap with all its individual ribs was fully assembled in AJ Laminated Beams workshop, before being taken apart and making multiple deliveries to site to enable the components to be winched into place on-site.
Kerto-Q panels were very well suited to this project because the panels could be cut easily to the shapes required and then once assembled, because Kerto is light, could be easily transported to site. Alternative solutions such as Glulam would not be suitable due to its lack of flexibility and fact that the product would be very expensive.
Mr Wells concludes "It was not the most straight forward project we have undertaken and the client and his installation team were extremely insightful on, at times, a testing project."
The renovation project is now complete and on the inside Kerto ribs are exposed. It provides a fantastic, open living space with fantastic views of Suffolk.
The Woodworking Project of the Year Award recognises the very best in design, application or ability in joinery manufacture. The award was set up in memory of John Hedgecock, the former technical director at the BWF. It is a fitting tribute to a man whose dedication and knowledge of woodworking and joinery manufacturing was second to none.
The award recognises innovative, complex or simply beautiful projects and rewards excellence in our industry, providing the opportunity for UK woodworking companies to receive special recognition for exceptional technical achievement, design or innovation in joinery manufacture.