Timber Expo Feature: Building as tall as trees at Timber Expo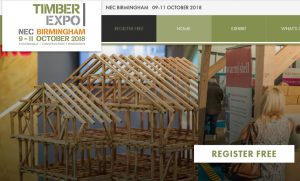 Timber merchants, joinery manufacturers and their architectural clients will benefit from a powerful opportunity to boost their knowledge and network with their industry colleagues at the most important event on the UK construction calendar dedicated exclusively to building with wood.
Taking place between 9 and 11 October 2018, Timber Expo, supported by content partner TRADA, will join Build Show, Building Tech Live, Civils Expo, Energy 2018, Plant & Machinery Live, HVAC 2018 and the Surface & Materials Show to form UK Construction Week (UKCW), the UK's largest trade show for the built environment.
 Nathan Garnett, UKCW event director, said:
"Timber Expo consists of three days brimming with the latest products, innovations and developments across the timber sector both within the UK and internationally.
"The show covers a wide range of timber applications, from structural uses of timber frame, glulam, SIPs and CLT through to the joinery industry's best products across timber cladding, stairs, doors and windows, mouldings, skirtings and flooring. There's not a more comprehensive representation of the timber industry anywhere else in the UK."
The Timber Focus Theatre, supported by TRADA, returns again this year and will have a more interactive feel including a 3D engineered art installation created with students who are pushing the boundaries of what is possible with wood.
Arup, Foster and Partners and DRMM are some of the big names making up the seminar programme. Topics to be covered include the specification and regulatory requirements for timber cladding and timber fire doors, building timber buildings as high as a tree, and designing CLT for durability, as well as a number of aspirational timber building case studies.
Chat show debates will also take place at the Timber Focus Theatre at various times throughout the event, including provocative discussions on how best to prepare design students for the world of practice.
A new feature this year is the Confederation of Timber Industries (CTI) workshops. The Structural Timber Association, Timber Trade Federation, Trussed Rafter Association and British Woodworking Federation will deliver a programme filled with CPD workshops and networking events, supported by the timber industry's campaign, Wood for Good.
Timber Expo will also be linking with the Offsite area within the Build Show. With so much potential around this method of construction, it will be a must-visit area.
This year also sees the launch of the UKCW Role Models Campaign to champion the existing talent in the industry and to inspire the next generation.
Role models are taking part in an outreach programme, going to colleges and schools in the coming months to talk to students and teachers at key stages of their education to explain what inspired them to choose construction as a career and to bust any myths around the image of construction.
 37 inspiring men and women have recently been shortlisted for this campaign, and the overall Role Model of the Year will be announced on 10 October.
Debates on major national and international construction issues will take place on the UKCW Stage. Speakers already confirmed include Phil Wilbraham, expansion programme director at Heathrow; Bridget Rosewell OBE, commissioner at the National Infrastructure Commission; Ben Derbyshire, RIBA president; and Ruth Davidson, National Housing Federation executive director.
Other benefits for visitors include an extensive programme of free CPD sessions, the Beer & Ale Festival with hot food and live entertainment, and a chance to celebrate with the Construction Enquirer Awards.
Last year was UKCW's most successful yet with more than 30,000 trade visitors. This year is set to be even bigger with a forecast of 35,000 visitors.
90% of visitors to the event say they are there to source new products and suppliers, 79% to network with suppliers and other visitors, and 76% to talk to product experts and exhibitors' technical staff.
Visitors to last year's show had a combined purchasing power of £75 billion, with 85% of attendees having direct purchasing authority. They included 3,771 professionals from architectural and design firms, more than 3,000 contractors and 7,651 housebuilders and developers.
If you want to share your latest product launch or service or just want a platform that gets you directly in front of your customers, there's still a chance to grab an exhibitor spot. Register your interest via the Timber Expo exhibitors page.
Free tickets for visitors to the Timber Expo are also available now from www.timber-expo.co.uk
Keep up-to-date about the latest exhibitors, product launches, industry awards and speakers at Timber Expo on the website www.timber-expo.co.uk and on Twitter at @TimberExpo or tweet using #TimberExpo2018.
ENDS
Issued on behalf of UK Construction Week (UKCW) by Liz Male Consulting Ltd.
Emma Sisson
PR Assistant
Liz Male Consulting Ltd
Switchboard: 01234 712 279
Direct Dial: 01234 607 916