A Client's Contract Is Requesting Chain Of Custody Certificated Timber. We Buy FSC And PEFC Material. Is That Enough?
Unfortunately, simply using FSC or PEFC material is not enough to continue the Chain of Custody certification on to the client. So if you use certified timber, you can only claim to be supplying a Chain of Custody product if you are a certified link in the chain. If you are not, then you break the link.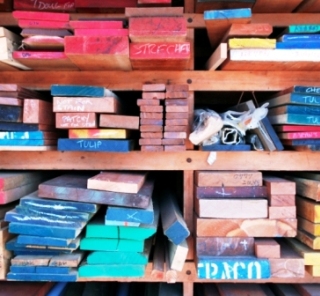 Chain of Custody Certification is the process of ensuring that a forest product has come from a legal, responsible source. The basis for COC is that you manage your supply of timber in a way that identifies certified timber from any non-certified timber. Implementing a Chain Of Custody process is a fairly straightforward task, but one that will require third party auditing to ensure that your company is taking responsibility for maintaining the integrity of the chain.
To start with, you must buy from companies that can supply FSC or PEFC timber. When that timber arrives at your workplace, everybody involved in checking goods in must see that it is accompanied by the correct paperwork. The timber must then be stored and managed separately from any other non-certificated timber.
When a customer asks for FSC or PEFC products, this must appear on all of your internal paperwork. All staff will need to be aware of this fact and keep a check on it, which will generally mean that appropriate training will have to have been carried out. When the product is assembled ready for despatch, delivery notes and invoices must include the COC codes and a description of the certificated product.
There are a number of certification schemes, with the most well known being the Forestry Stewardship Council (FSC) and Programme for the Endorsement of Forestry Certification (PEFC) schemes. The material brought in through different schemes must also be kept separate, for example PEFC chain of custody certified material (originally from a PEFC forest) must to be segregated and moved on only as PEFC (i.e. not FSC or any of the other certification scheme). And so with FSC.
As the Chain of Custody certification numbers would be specific to each scheme, the FSC Chain of Custody certification would stop with the last use of an FSC number in an unbroken chain, a number that could not be given to PEFC material (and vice-versa).
Companies who need FSC and PEFC Chain of Custody Certification are reminded that they can get this through the BWF's Joinery Toolkit with reduced rates for BWF members. If you have 15 or less employees (or less than 50 if you want PEFC certification), then you may be eligible to join the BWF Group Chain of Custody Scheme.