Won't a Window With a Centre Pane U-Value of 1.2 W/m2K Potentially Cause Exterior Condensation?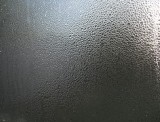 The changes to the Building Regulations that have increased the requirements for the thermal performance of doors and windows came into effect in 2010. These can be boiled down to a need for replacement windows to have a U-value of 1.6 W/m2K and replacement doorsets to have a U-value of 1.8 W/m2K for England and Wales, and 1.6 W/m2K in Scotland. Also, for Scotland, where the external walls of an extension have a U-value above 0.7 W/m2K, which would be a poor figure, the windows and doorsets will need to have a U-value of 1.4 W/m2K.
One phenomenon of which to be aware is of condensation on the outside of the newly installed windows fitted with double glazing units with centre pane U-value of 1.2 W/m2K. Predicting when windows would be susceptible to external condensation is difficult, and if it does occur, it may not occur on all windows in a property. This is due to particular conditions of high humidity, no wind and low overnight temperatures need to happen together.