Insurance and Risk Management
What is Risk Management?
Risk Management is the means by which an organisation assesses the risks facing the business and the likelihood of the risk happening and how it could hinder or damage the business. The organisation can then manage the risk by putting measures in place to reduce the impact of that risk or take away the risk. One of those measures is insurance. Insurance is the system and business of providing financial protection against specific risks identified by the business.
How can BWF help manage the risks to my woodworking business?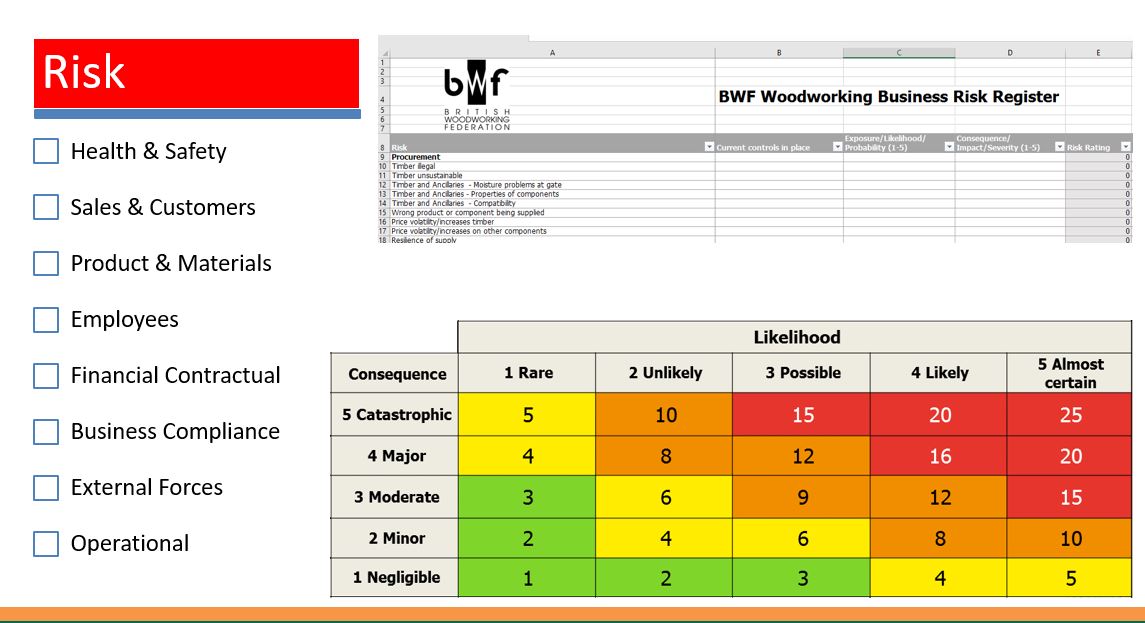 There are many risks which are an unescapable part of running a woodworking and joinery manufacturing business. But what you can measure you can manage. So we are urging business owners to make use of the full range of resources that we provide, including our technical and legal helplines, risk assessment services, insurance and business support.
BWF has drawn up a structured process for business owners to identify the most likely or damaging risks in their joinery manufacturing and woodworking firms. The BWF's Risk Register lists a full range of potential risks relating to people, processes, equipment, environment, property, regulatory compliance, corporate reputation, finance and other areas of business. BWF members can access the interactive risk register here.
Through using the tool, a register of risks can be created very quickly and an assessment made about the likely severity and probability of each risk. Any unacceptable high risk issues can then be acted on immediately, and longer-term mitigation strategies developed for anything classified as medium risk.
Offsetting Risk with Insurance
There is a wide range of insurances available, these include:
1. Employer's Liability Insurance
This is the statutory cover you require when you employ anyone. It covers your legal liability for bodily injury or disease sustained by employees, arising out of activities in connection with your business.
2. Public/Product Liability Insurance
Public Liability covers your legal liability for bodily injury or damage caused to third parties or their property, arising out of any activities connected with your business
Product Liability covers your legal liability for accidental bodily injury or damage caused to the third party or their property arising out of goods sold or supplied in connection with your business.
3. Material Damage
This covers physical loss or damage to your assets e.g. your buildings and contents by an insured peril. Cover can be on an All Risks basis including Terrorism, Theft and Subsidence.
4. Business Interruption
This cover is for your loss of profit/revenue and increased costs incurred should there be a claim under the Material Damage section to your buildings and contents.
5. Directors and Officers Liability
Covers the legal liability of the directors and officers of the business in their professional capacity as directors and officers.
6. Professional Indemnity
Covers your legal liability if you make an error or omission when providing advice, design and other professional activities.
Certain insurances eg Employers Liability and Motor are statutory. Other insurances, whilst not compulsory are advisable eg Assets, Business Interruption and Directors and Officers.