Timber Resource Efficiency
The BWF is working hard on a number of initiatives to ensure that BWF members reduce their environmental impact and manage their resources and any waste in an efficient and sustainable way. In addition to this, our members are obliged to take their environmental and waste management responsibilities seriously under the BWF Code of Conduct.
The Timber Resource Efficiency Partnership (TREP)
A vital part of the BWF's work on resource efficiency is the Timber Resource Efficiency Partnership (TREP), a joint initiative undertaken by the timber industry trade associations and leading companies across the industry.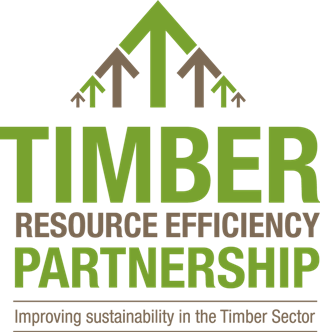 The intent of TREP is to improve the sustainability of the joinery and wider timber industry through the development and delivery of practical actions, better awareness and understanding amongst all parts of the supply chain, and thus contribute towards the goal of reducing the total amount of waste produced by the timber sector, as well as waste sent to landfill. In short, TREP focusses on 3 main areas:
• Improving procurement practices
• Managing wood waste better
• Disposal of wood waste
Membership
Membership of TREP is open to any individual, company or trade association involved in the supply, manufacture, distribution, installation, recycling, reprocessing and disposal of timber or timber products as well as relevant government departments, local authorities and public bodies. It is free to any such parties that are interested in taking part in this work. Please contact us for further information.
TREP will meet on an ad-hoc basis to monitor progress made in the implementation of the Joinery Resource Efficiency Plan and to discuss relevant sustainability issues relating to the joinery and timber industry. Small working groups concentrating on each area ensure that it meets the planned targets and these will be reported to the main partnership meetings.
How is TREP helping my business?
TREP is actively engaged in industry-wide plans, government consultations, and formulation guidance to help the timber industry understand the issues behind resource efficiency, as well as providing management tools to help improve industry resource efficiency. Work completed by TREP has so far included:
•  Developing two online tools to help the timber industry to learn more about resource efficiency and waste management. See the E-Learning: Wood Waste & Resource Efficiency Module and Resource Efficiency & Wood Waste Workshops.
•  Defining a simplified range of engineered timber components which are available from timber and builders merchants on an ex-stock basis. This is to enable smaller to medium-sized joinery companies to have easier access to engineered components geared to manufacturing windows for today's market at a more competitive price.
•  Feeding in to the Windows Sustainability Action Plan to outline the challenges faced collectively by the timber window industry, whether a supplier, manufacturer, distributor, fabricator or installer.
•  Management of the Joinery Resource Efficiency Action Plan.
So what is the Joinery Resource Efficiency Action Plan (JREAP)?
The JREAP is a contribution to delivering targets in the joint government and industry Strategy for Sustainable Construction and will help in reducing wood waste generated by the joinery sector, as well as acting as a model for other sectors of the timber industry.
The Plan was launched in September 2010 and has been developed to assist the industry to decrease the amount of avoidable wood waste generated through inefficient procurement, collection and disposal practices, and to explore potential uses of any unavoidable waste. It identifies the key challenges and actions that the joinery sector will need to take if improvements are to be achieved.