Will CE marking affect my business?
From 1 July 2013, under the Construction Products Regulation 2011 (CPR), it has become mandatory for manufacturers to apply CE marking to any of their products which are covered by a harmonised European standard (hEN) or European Technical Assessment (ETA).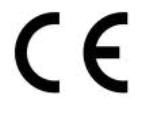 CE marking applied to manufacturers of windows and external doorsets from 1 July 2013 and you can see our guidance below. CE marking of fire-rated doorsets will be possible from 1 September 2016 and will be compulsory from 1 September 2019 (please note that these dates are liable to change – if you need clarification, please ring the BWF member technical helpline on 0844 209 2610). Here you can find essential guidance on the CE marking of fire-rated doorsets. There may also be work in the future on developing the existing standard for timber stairs into a harmonised standard.
With CE marking now a legal requirement, the BWF can provide technical advice and expertise to help ensure your products are able to meet the regulations. With manufacturers on the continent having been CE marking for years, it's crucial that UK businesses don't miss their cue and are able to meet their obligations in time and remain competitive.
Trading standards are enforcing the regulation, and failure to comply could result in prosecution. In order to comply with the regulation, we have drawn up 5 crucial steps that joinery manufacturers will need to take:
1) Determine how it affects your business
2) Set up a written factory production control system
3) Get U-values
4) Produce a Declaration of Performance (DoP)
5) Label your product
1) Determine how it affects your business
CE marking affected manufacturers of windows and external doorsets from 1 July 2013, but there are exemptions for some products made in a traditional, non-industrial way for heritage and restoration projects.
For small businesses that come under the category of a micro-enterprise, there is also a simplification to the CE Marking rules in that the performance data that they declare will not need to have been accredited by a Notified Body. A micro-enterprise is defined as an enterprise which employs fewer than 10 persons and whose annual turnover and/or annual balance sheet total does not exceed EUR 2 million.
There are also more stringent requirements for the CE Marking of external doorsets on an escape route provided with 'ability to release' hardware.
2) Set up a written Factory Production Control System (FCPS)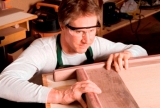 If you don't have ISO9001, then having a written FPCS in place is a mandatory part of CE marking. An FPCS is a formalised series of procedures that together ensure the consistency of quality and performance of products made in a workshop or factory. It is the method used to demonstrate that the products made available for sale on an on-going basis consistently perform to the levels stated in the manufacturer's DoP.
To make sure that complying with this part of the regulations doesn't become a complicated and bureaucratic process, we've made our Factory Production Control manual and guidance exclusively free to BWF members.
LOG IN TO OUR PUBLICATIONS AND DOWNLOAD OUR 'FPC FOR CE MARKING MANUAL'
The manual has been neatly divided into 5 parts. BWF members needing further support can contact our technical helpline or arrange a consultancy visit from an FPC expert. Each part of the manual is accompanied by a guidance article. BWF members can find these guidance articles by clicking the links below:
(i) The Introductory Guidance – Introducing Factory Production Control for CE marking
(ii) The written factory production control template manual – Using our free-to-members FPC for CE marking template manual
(iii) Process maps you can download and adapt for your written factory production control system – What else should my written Factory Production Control System consist of?
(iv) Forms you can adapt as part of your factory production control system – How does the FPC process fit in with CE marking?
(v) – Inspection Forms for use in a written factory production control system – Getting the checks in place for a successful Factory Production Control System
3) Get U-values
You will need a U-value (thermal transmittance) as part of your declaration of performance because it is an essential characteristic in BS EN 14351 part 1 and a requirement under Part L of the building regulations. As a general rule, if your window or external doorset requires a U-value under the Building Regulations, then you will need to CE mark, so even if your customers haven't been asking for U-values, you could still be required to provide them. If you do not have a U-value for your product, BWF members can achieve U-values calculations through BWF at highly reduced rates. We can also offer full U-value simulations that can be accredited by a notified body. If you currently have a software package that generates your U-Values, please contact your software provider.
GET U-VALUES (WITH NOTIFIED BODY IF APPROPRIATE) THROUGH OUR TOOLKIT+ SERVICE
4) Produce a Declaration of Performance (DoP)
For each CE marked product the manufacturer will need to produce a DoP document that outlines how the product performs in relation to the 'essential characteristics' (8 for windows and 11 for doorsets).
While all of these characteristics must be listed on the DoP, only three are required to have a value against them as they are either a regulated characteristic in the UK, or the Product Standard requires a threshold level of performance to be met. These characteristics are the thermal transmittance (U-value), a declaration of dangerous substances and the load bearing capacity of safety devices. Where manufacturers have evidence of the other characteristics, they will include them on the DoP. If they are larger than a micro-enterprise, then these will also need to go through a Notified Body.
We have provided free template declarations of performance for a window that a BWF micro-enterprise or a larger joinery business could adapt and adopt in order to help them meet one of the requirements of CE marking.
LOG IN TO OUR PUBLICATIONS AND DOWNLOAD OUR 'DRAFT DECLARATION OF PERFORMANCE'
5) Label your product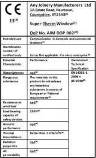 You must display the CE mark on or with your product in accordance with article 9 of the Construction Products Regulation which states that:
"The CE marking shall be affixed visibly, legibly and indelibly to the construction product or to a label attached to it before the product is placed on the market."
We have drawn up a template label that BWF members can adapt and use, and you can also get labels printed through us if required.
LOG IN TO OUR PUBLICATIONS AND DOWNLOAD OUR 'TEMPLATE LABEL FOR CE MARKING'
Note: Whilst every effort has been made to ensure the accuracy of advice given, the BWF cannot accept liability for loss or damage arising from the use of the information supplied.
BWF Members can find the answers to many of their detailed CE Marking questions online by logging in to the BWF website. For further assistance, our technical team (0844 209 2610) is on hand to give free expert advice (members only), answering questions such as:
'Do I have to CE mark bespoke products?'
'What U-value must I declare?'
'What are the penalties likely to be?'
So, do I need to involve a "Notified Body" in my declaration? 
Do all construction products need to carry a CE mark?
Visit our CE Marking Members Only FAQs here
DOWNLOAD THE CE MARKING FACTSHEET AND OUR CE MARKING FLOWCHART HERE