What are U-values and energy ratings for windows and doors?
A U-value (thermal transmittance) is a measure of how well an element of a building, such as a window or door, will transfer heat. The lower the U value the better the thermal performance of the product. Many such external elements will have to comply with thermal standards that are expressed as a maximum U value (W/m²K).
A Window Energy Rating is a method of assessing the total energy performance of a window. A window energy rating will not only measure the total energy loss, as a U-value does, but also the energy gain and the air leakage through the window.
Why do I need to give a U-value?
From 1 October 2010, window manufacturers in England and Wales have been obliged to demonstrate that their windows comply with the energy efficiency requirements in the 2010 revision of Part L of the Building Regulations and the Approved Documents L1A (new dwellings) and L1B (existing dwellings). This is usually done by declaring the windows' U-value.
The current requirements are:
– Window, roof window of roof-lights are required to meet Window Energy Rating (WER) Band C or better, or U-value 1.6W/m2K
– Doors with greater than 60% of internal face glazed are required to meet Door Set Energy Rating (DSER) Band E or better, or U-value 1.8W/m2K
– Other doors are required to meet DSER Band E or better, or U-value 1.8W/m2K
U-Values are considered 'essential characteristics' for the sake of CE Marking, and will need to be included as part of your Declaration of Performance (DoP).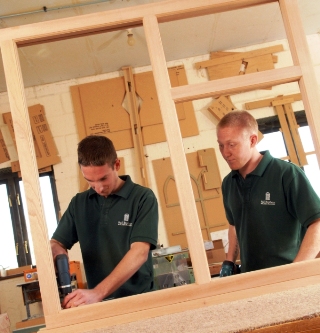 If you are a micro-enterprise (fewer than 10 employees) this can be calculated using any available calculation tool that follows ISO 10077-1 or -2.  In the case of all other windows and doors manufacturers a certificate will need to be accredited via a notified body.
Architects and specifiers need the thermal transmittance values of windows, in order to calculate the SAP or SBEM ratings of the buildings into which the windows are to be fitted, and in order to establish thermal efficiency through BIM.  If you cannot provide U-values, then they may opt to use the windows of a competitor who does have the information to hand. SAP ratings are also an important part of Green Deal requirements, so if companies wish to use their windows and doors as Green Deal products, then they will need to provide U-values to satisfy this aspect of the initiative.
Understanding the U-values of your windows is important to you, and your customer knowing how energy efficient your windows are. With the high cost of gas and electricity, consumers are demanding more energy efficient products.
As a Window Energy Rating takes into account solar gain, thermal transmittance values and air leakage, it can be a good marketing tool, bringing in energy conscious homeowners, contractors and local authorities that may have gone to your competitors in the past.
Is a Centre Pane U-value enough to comply?
It is only possible to comply with the Regulations by declaring the centre pane U-value in very limited circumstances.  In the case of a window or a door, a centre pane U-value of 1.2 W/m2K can be only used when the window can't meet the required u-value due to a requirement to maintain the external appearance or character of the building.  For the most part, the U-value must relate to the whole window of doorset as manufactured.
How can BWF help me get U-values or Energy Ratings?
We offer 3 different services to help joinery manufacturers obtain their U-values and energy ratings for their windows and doors. Through our experience within the window industry, and in carrying out thermal simulations, the BWF, and its service providers, have built up an understanding of the combination of glass and framing configurations that are likely to give the most favourable U-values.
If you require, the simulator can then go on to calculate the U-values over a range of sizes for the agreed configurations, following which a matrix can be issued reflecting the results for each size.