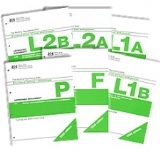 The British Woodworking Federation, through our helpline regularly advises members in helping to ensure product and projects are compliant with the Building Regulations.  BWF has strong relationships with Building Control offices and representative bodies such as LABC and NHBC and is consulted regularly on building control matters and works with these and the relevant civil service teams in helping to ensure that regulation and accompanying guidance documents are fit for purpose.
All information related to Building Regulations is disseminated via our newsletter, at regional and technical working group meetings, at our Members Day and via webinars.  Specific information related to products is included in the Technical Woodworking Support section in the menu to the left of this page.
Additional information on keeping products compliant is also provided through our product schemes Fire Door Regulation via BWF CERTIFIRE and the BWF Stair Scheme, which produces a detailed staircase design guide that includes an excellent summary of how to comply with domestic regulations across the United Kingdom.
Guidance Documents
The UK has devolved Building Regulations. If you wish to find the main guidance documents for reference, these can be found below:
The Building Regulations England and Wales | Building Regulations Scotland | Building Regulations Northern Ireland | Building Regulations Channel Islands
NOTE:  Members can call our technical helpline or email bwf@bwf.org.uk if you have questions or need help in dealing with a building regulation issue.
Hot Topics – New Security Regulations
From 1st October 2015 the Building Regulations for England introduced the requirement for security rated doors and windows to be provided for new build homes. Note this does not apply to replacement windows and doorsets – it is new build only. The major change for us is that doorsets and windows should be made to a design that has been shown by test to meet the security requirements of PAS 24:2012, although doorsets can instead be designed and manufactured in accordance with Appendix B of Approved Document Q.
You can find out more information on our page on Building Regulations Part Q – Security Regulations for accessible windows and doors in new homes.
Part L
From 1 October 2010, window manufacturers in England and Wales have been obliged to demonstrate that their windows comply with the energy efficiency requirements in the 2010 revision of Part L of the Building Regulations and the Approved Documents L1A (new dwellings) and L1B (existing dwellings). This is usually done by declaring the windows' U-value.
You can find out more information on our page on Energy performance for windows and doors (U-values and Energy Ratings).