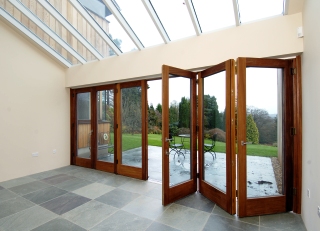 In this section we look at various technical aspects relating to external doors that architects, specifiers, other parties and indeed manufacturers should be aware of.
Building Regulations
All Buildings in the UK are required to comply with Builiding Regulations.  In the case of external doors this means that installations need to be approved through the Building Control process or signed off by a company/individual registered with a relevant competent person scheme (e.g. FENSA). Thermal aspects of the Building Regulations (Part L in England) has tended to grab alot of the headlines recently with a focus on a move towards zero carbon homes and lower energy bills, however, the announcement of the New Part Q Security Regulation has particular significance for external doors and windows, where a wider scope of product tends to be available than in rival materials.  Some further detail on this is provided with a short summary of the key areas of the Building Regulations that impact on external doors below.
Fire Safety
External doors may be required to be fire rated if they are on an escape route or near a property boundary.
Acoustics
A door used as the entrance to a flat will need to provide suitable levels of sound attenuation.
Ventilation
External doors and/or their frames may be required to contain a background (trickle) ventilator and external doors can contribute to purge ventilation areas.
Protection from falling
When a door opens near a stair there are restrictions limiting the way a door is permitted to block the flight or landings.  If a door opens on to a change of level, such as a pair of doors opening on to a Juliet balcony the resultant opening will need to be protected by suitably designed and constructed guarding.
Conservation of Energy
External doorsets form part of the external envelope or façade of a building and heat loss through the doorset will be restricted due to specified levels of  thermal transmittance (U-value).
Access to and the use of buildings
External doorsets that are considered to be the principal entrance to a dwelling will need to be fitted with an accessible threshold and will be required to open to specified widths.
Safety in Use
Any glazed areas in or near to an external door will need to be fitted with glass which should be in small panes or should be robust, so as not to break, or if it breaks, it should break safely.
The New Part Q: Security
The new Part Q of the building regulations for England will introduce the requirement for security-rated doors and windows to be provided for new build homes. The changes, as proposed in the new Approved Document Q, came into force for properties registered after 1st October 2015 in England.  Sites registered prior to October 2015 will only be required to comply with the corresponding regulation at the time of registration.
The introduction of Part Q Security Regulations marks the biggest change to the Building Regulations in recent times and the impact on those supplying product into new homes is huge – any range of windows and non-bespoke external doors (including flat entrances) sold into the new build market will need to be backed by security testing.
Evidence may be cascaded for example, from an ironmongery manufacturer, however, it is vital to ensure that the scope covers the product you are supplying (e.g. section sizes, glazing method/system, species, placement of ironmongery and length and size of any fixings used).  A detailed presentation on Part Q was provided at our Members Day 2015 and there have been regular articles in our newsletter, it has been the hot topic in technical meetings and we have run dedicated webinars.
Included in the accompanying guidance is a proposed Appendix that describes a bespoke timber doorset that would be "deemed to satisfy" Requirement Q1.
Should you have any questions or comments, please do not hesitate to call the BWF technical team on 0844 209 2614
For copies of detailed guidance regarding the Building Regulationss please refer to the Building Regulations section of this site.
Standards
BS EN 14351-1:2006+A1:2010
Windows and doors. Product standard, performance characteristics. Windows and external pedestrian doorsets without resistance to fire and/or smoke leakage characteristics.
BS 6375-1:2009
Performance of windows and doors. Classification for weathertightness and guidance on selection and specification.
BS 6375-2:2009
Performance of windows and doors. Classification for operation and strength characteristics and guidance on selection and specification.
BS 6375-3:2009
Performance of windows and doors. Classification for additional performance characteristics and guidance on selection and specification.
BS EN 1026:2000
Windows and doors. Air permeability. Test method.
BS EN 12207:2000
Windows and doors. Air permeability. Classification.
BS EN 1027:2000
Windows and doors. Watertightness. Test method.
BS EN 12208:2000
Windows and doors. Watertightness. Classification.
BS EN 12211:2000
Windows and doors. Resistance to wind load. Test method.
BS EN 12210:2000
Windows and doors. Resistance to wind load. Classification.
BS EN 14600:2005
Doorsets and openable windows with fire resisting and/ or smoke control characteristics. Requirements and classification.
BS EN 949:1999
Windows and curtain walling, doors, blinds and shutters. Determination of the resistance to soft and heavy body impact for doors.
BS EN 12046-2:2000
Operating forces. Test method. Doors.
BWF is unable to provide copies of these standards, however, discounts to buy through BSI are available and we hold copies and can answer questions that members may have.  For further information call the BWF on 0844 209 2610.
Certification
There are a number of clauses in the relevant British Standards BS 644 and BS 6375 that refer to testing and certification. We've put together a simple reference table to outline the testing that is required to meet these standards. For further information call the BWF on 0844 209 2610.
External Doorsets Testing Information (PDF)
Additional Technical Publications covering External Doors
Accessible Thresholds
Explanation of the requirements of Approved Document Part M of the Building Regulations relating to new dwellings covering a number of different provisions, including the need to provide accessible thresholds to the principal entrance to the dwelling.
Care of timber doors on site
Good practice tips to ensure that after delivery doors are correctly treated to ensure that the moisture content is appropriate for the situation and that they are not physically damaged in unloading, storage and installation.
Moulded Skin Timber Fibre Doors
Good practice guidelines for all types of moulded wood fibre doors (also known as Die Form Doors) irrespective of the door skin producer or door manufacturer.
Door cores
Door core definitions used by the timber door industry when describing their door products.
It is also worth referring to publications on windows, which includes information on glazing systems and installation.