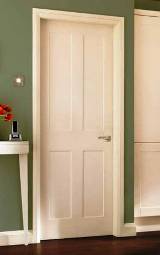 In this section we look at various technical aspects relating to internal doors that architects, specifiers, other parties and indeed manufacturers should be aware of. Use the navigation on the left-hand side to find the information you need.
Building Regulations
Fire Safety
Internal doors may be required to be fire rated if they are on an escape route or form part of the compartmentation of the building. The fire rating will be achieved by an appropriate assembly of the door leaf, frame, intumescents and associated hardware. Some fire door assembles will need to be resistant to the passage of smoke. Click here for more detailed on Fire Doors.
Acoustics
A door used as the entrance to a flat will need to provide suitable levels of sound attenuation
Ventilation
Internal doors may be required to contribute to the ventilation of a building possibly by the provision of a suitable gap underneath the door to permit the passage of air.  In these circumstances consideration will need to be given to the possible conflict with the maximum threshold gap allowable for a fire door.
Protection from falling
When a door opens near a stair there are restrictions limiting the way a door is permitted to block the flight or landings.
Conservation of Energy
If an internal door is fitted between a heated space and an unheated space the heat loss through the door and frame together will be restricted due to specified levels of  thermal transmittance (U-value).
Access to and the use of buildings
Internal door assemblies within the entrance or principal storey of a building will be required to open to specified widths to enable full access to the facilities within that storey.
Safety in Use
Any glazed areas in or near to an internal door will need to be fitted with glass which should be in small panes or should be robust, so as not to break, or if it breaks, it should break safely.
Standards
The European Product Standard for Internal doorsets is under preparation – this will once harmonised nessesitate the CE Marking of Internal Doorsets (this will be complementary to any CE Marking related to fire doorsets:
PAS 23-1:1999
General performance requirements for door assemblies. Single leaf, external door assemblies to dwellings
PAS 24:2007+A1:2009
Enhanced security performance requirements for door assemblies
DD 171:1987
Guide to specifying performance requirements for hinged or pivoted doors (including test methods)
BS EN 951:1999
Door leaves. Method for measurement of height, width, thickness and squareness
BS EN 1529:2000
Door leaves. Height, width, thickness and squareness. Tolerance classes
BS EN 952:1999
Door leaves. General and local flatness. Measurement method
BS EN 1530:2000
Door leaves. General and local flatness. Tolerance classes
BS EN 1294:2000
Door leaves. Determination of the behaviour under humidity variations in successive uniform climates
BS EN 12219:2000
Doors. Climatic influences. Requirements and classification
BS 8214:2008
Code of practice for fire door assemblies
BS 4787-1:1980
Internal and external wood doorsets, door leaves and frames. Specification for dimensional requirements
BS EN 15269 Series
Extended application of test results for fire resistance and/or smoke control for door, shutter and openable window assemblies, including their elements of building hardware.
Part 1: 2010, General requirements
Part 3: Draft, Timber hinged and pivoted doorsets
Part 20: 2009, Smoke control for hinged and pivoted steel, timber and metal framed glazed doorsets
BS 476-22:1987
Fire tests on building materials and structures. Methods for determination of the fire resistance of non-loadbearing elements of construction
BS 476-31.1:1983
Fire tests on building materials and structures. Methods for measuring smoke penetration through doorsets and shutter assemblies. Method of measurement under ambient temperature conditions
Additional Technical Publications covering Internal Doors
Care of timber doors on site
Good practice tips to ensure that after delivery doors are correctly treated to ensure that the moisture content is appropriate for the situation and that they are not physically damaged in unloading, storage and installation.
Moulded Skin Timber Fibre Doors
Good practice guidelines for all types of moulded wood fibre doors (also known as Die Form Doors) irrespective of the door skin producer or door manufacturer.
Door cores
Door core definitions used by the timber door industry when describing their door products.