Shortlist: BWF Trainee of the Year sponsored by CITB
Name of Trainee: Keith Kerby
BWF Member Firm: Howarth Timber Windows & Doors Limited
Type of work/product(s) produced: External Windows and Doors
Keith is very adaptable when working a bench joiner, he has carried out various other tasks not directly relating to his role as a bench joiner. Particularly when carrying out the door picking although this sound a simple task it is a very complex job as detailed drawings have to be read and interpreted. Keith had to work with the sales and estimating team in ensuring the clients specification was met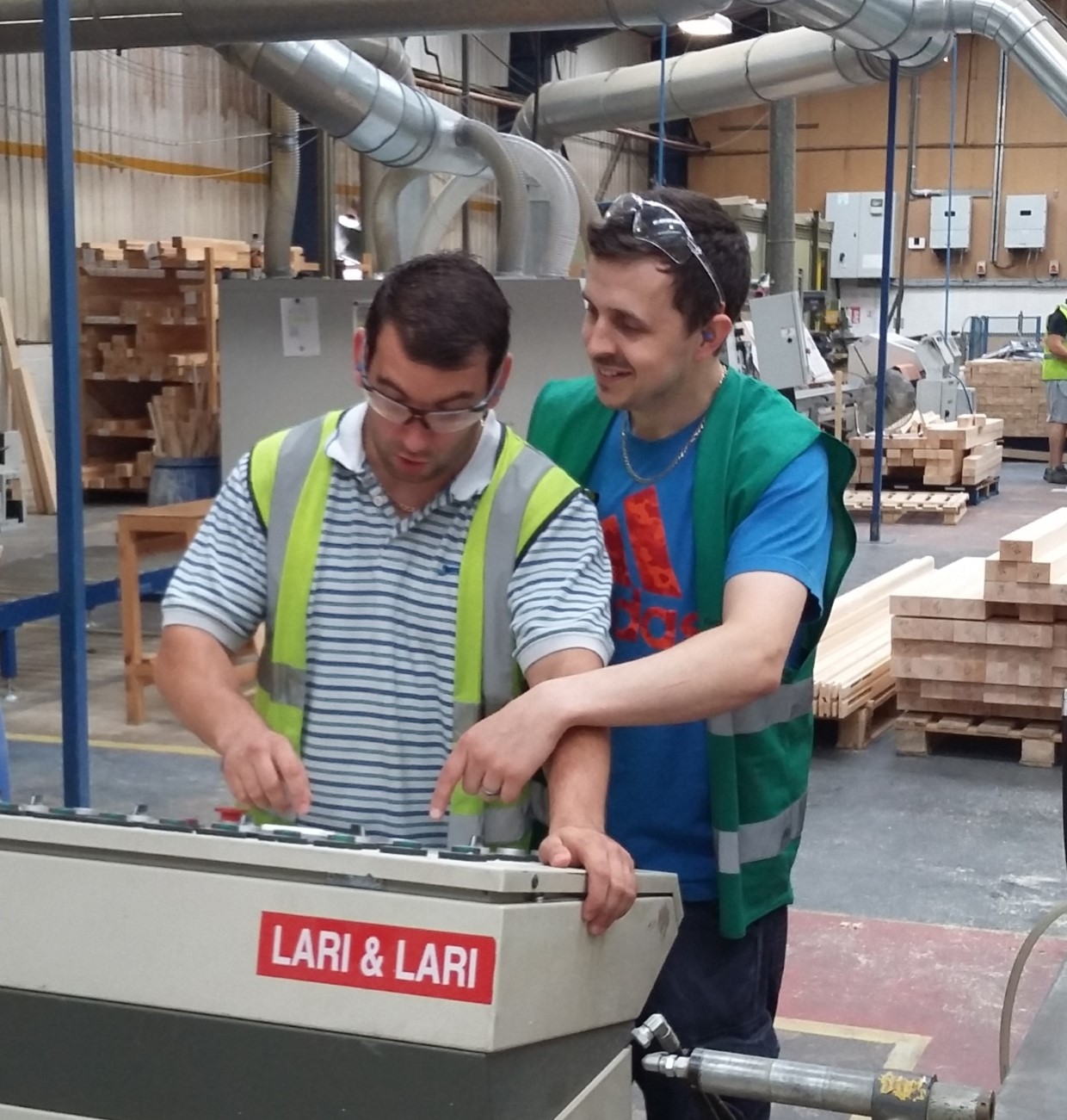 Keith (right) also had to work with production and dispatch staff to ensure everything was picked, converted and ready for assembly giving detailed Completion dates to all those concerned.
When the Cell leader position arose in the machine shop and Keith applied he was up against others with more relevant skills but we knew in terms of attitude, willing to learn and teach others he was right for the role.
When appointed had had little knowledge as this area and the role was well outside his comfort zone but he attacked it with vigour and made it his own.
He has since been promoted to team leader in the primary factory and is in the second highest position in management in this factory.
He has again taken this role on and made it his, he is continually looking to develop himself and his team and is fully committed to the lean principals and champions them daily.
Keith has expanded his technical knowledge on machines and tooling and has now achieved a very high technical understanding of these and importantly, he shares this knowledge with the team. He also undertakes technical tasks when we develop new products and is an invaluable member of the team.
Keith Kerby's Personal Statement
My name is Keith Kerby and I have been working at Howarth Timber Windows & Doors for nearly 10 years now. When I first joined the company, I was working in the B'Spec area as a bench joiner, assembling bays, combination frames and other bespoke items. Occasionally I would be required to assist the remedial joiners out on site, and on smaller jobs to go by myself.
I was in this role for approximately 4 years until a colleague left the company and I found myself taking on the job description and duties of Door Frame picking; the Primary Production Manager if I would continue doing this role, which I accepted.
I carried out these job duties for 3 years until a position came up for Machine Shop Cell Leader, one of my managers approached me and suggested I applied for the position; which I did and found myself successful.
This was a completely new challenge as not only did I have to learn and grow into leading a team, but I had no experience with the machines within the Machine Shop area, no understanding of the timber sections, or understanding of our different product ranges and tooling. I also had to try and win the respect from my new team members as I knew they would be doubtful over whether I would be able to do the job as I had no Machine experience and these were all fully trained machinists.
During this period, I have undergone and completed ILM Level 2 Certificate in Leadership & Team Skills, as well as a Machine training course, Powermat & Powercom training, Counterbalance licence and First Aid at Work training. I am now fully trained on all the machines on the Machine Shop and understand all the tooling, window components, timber section sizes and moisture content requirements. I feel like I have now gained the respect from my staff, I believe that this role has been a tough challenge from not knowing any of the Machine Shop or any team leading skills, I am pleased that I took on this new role as I have a lot more skills now than before, and I can progress within the company instead of being stuck on a particular job week in week out.
Recently I have been promoted to Team Leader, I am now in charge of 3 areas and will be focusing more on using lean tools to improve the quality and flow of the product. I have the full support of the Senior Managers, especially from Iain Clipsham who has helped me and taught me everything I know, I do not think I would be where I am today if I did not have the support from him. I am currently doing a Level 3 ILM in Management to help assist me in my new Team Leader role.
The BWF Trainee of the Year Award is one of two awards that celebrates the success of the rising stars of the joinery industry.
This award seeks to celebrate those that have entered through other training routes, including graduates, A-Level students and in-house trainees. They may have achieved some fantastic feats in their work, or show extraordinary commitment that really adds value to a company's workforce or the production.

Entries are open to any trainee that is undertaking (or has recently undertaken) external training/qualifications, or a structured in-house training programme that is employed within a joinery company, and will recognise outstanding achievement, commitment, adding value to the trainee's company, and personal development. Here you can view the shortlist for the awards.