Iain Purkis, Immediate Past President and Lead Member for Stairs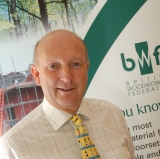 As we approach the end of 2011, the BWF Stair Scheme has now become a permanent feature within the group of BWF certification and accreditation schemes. It is with particular pleasure that we welcome Timber Stair Manufacturers Ltd into membership and look forward to them playing an active role alongside the other members. Interest continues to grow with several large companies currently expressing serious interest in joining.
Log in to read more...
Login to view more content
Not a member? Join now