Congratulations to the 2019 BWF Award Winners
The BWF Awards shine a light on the innovative companies and individuals that push the boundaries of woodworking and joinery, as well as recognising the stars and leaders of tomorrow. The quality of the entries we received this year was exceptional, with each individual and company epitomising the talent, creativity and professionalism of our industry. The Judges certainly had a difficult job on their hands.
Our sector makes a significant contribution to the UK's construction and manufacturing industries, and it's fantastic to come together at the BWF Annual Dinner & Awards to champion the outstanding talent and achievement that make our industry so successful.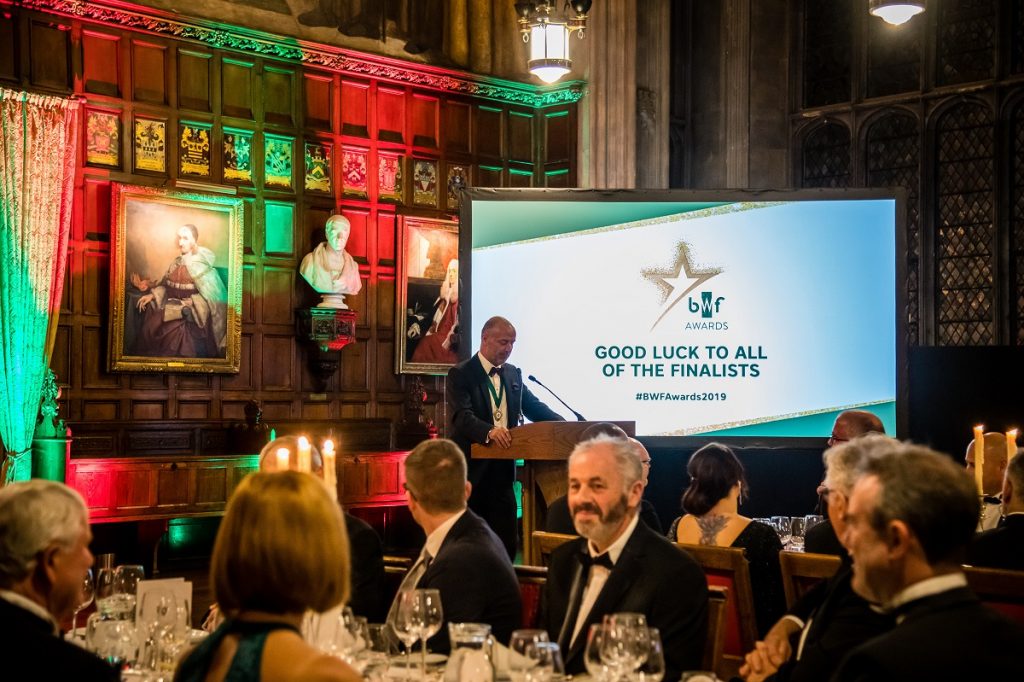 The winners of the BWF Awards 2019 were:
Woodworking Project of the Year (sponsored by Centor®):
Gowercroft Joinery for the design manufacture and installation of over 300 timber external and internal joinery items at Templeton House, a Grade II listed property in Roehampton.
Apprentice of the Year (sponsored by Remmers):
Bailey Donkin, apprentice at Middlesbrough-based ERW Joinery, has picked up Apprentice of the Year Award for his creativity, innovative approach and outstanding joinery.
Product Design in Wood Award (sponsored by Teknos):
Tom Pearson & Sons for a unique replacement entrance door solution that incorporated the original stained glass.
Health & Safety Hero Award (sponsored by CITB):
GE Door Manufacturing for its health & safety first culture to drive continuous improvement across their factory, with clear measurement of colleague engagement and adoption.
Process Efficiency Award (sponsored by W20 Exhibition & the FIT Show):
West Port Timber Windows & Doors for its fire door manufacturing project which focused upon customer value by reducing waste.
Rising Star Award (Sponsored by the Timber Trade Federation):
Carol Bruce, HR Manager at Allan Brothers, was named as the BWF Rising Star of 2019 for her support of colleagues and guidance across the business which has been pivotal to the company's recent transformation programme.
For more information on all the winners click here