BWF 2019 Awards Shortlist Revealed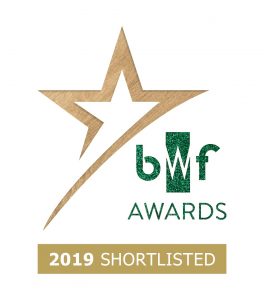 This year's shortlist for the prestigious BWF Awards has been revealed, celebrating the best of the best in UK woodworking, recognising technical innovation, design, process efficiencies and health & safety. For the first time, the Awards will feature a Rising Star category which recognises those individuals whose dedication and hard work have made a significant impact on their organisation or the wider industry.
Helen Hewitt, Chief Executive of the BWF commented:
"I have been blown away once again with the talent, creativity and hard work that is showcased in the BWF Awards shortlist, which clearly demonstrates the phenomenal skill and craftmanship within our industry.
The BWF Awards celebrate the businesses within the industry who continue to push the boundaries of innovation in woodworking and joinery, and shine a light on our industry's future leaders. We're looking forward to sharing the remarkable success of our industry at this year's Annual Dinner."
The winners will be announced at the BWF's Annual Dinner which will take place at the Honourable Society of Lincoln's Inn, London, on Friday 22nd November. More information about the awards can be found here.
The full shortlist for this year's awards is as follows:
Woodworking Project of the Year Award – Sponsored by Centor®
George Barnsdale – for the design, manufacture and installation of over 200 customised wood windows and doors for Twenty Grosvenor Square, a Grade II listed property in London.
Goughs Joinery – for the design and build of a First World War memorial at the Catholic Church of St Francis of Assisi, near Solihull.
Gowercroft Joinery – for the design, manufacture and installation of over 300 timber external and internal joinery items at Templeton House, a Grade II listed property in Roehampton.
Product Design in Wood Award – Sponsored by Teknos
Mann McGowan Group – for its innovative Palusol SW Fire Resistant Panelled Doors which provide architects the freedom to design a unique fire-rated panel door.
Tom Pearson & Sons Ltd – for a unique replacement entrance door solution that incorporated the original stained glass.
Arden Windows – for the re-design of its Stratford Door Range to improve the aesthetics and sightlines of multiple configurations of doorsets and sidelights/fanlights.
Apprentice of the Year Award – Sponsored by Remmers
Bailey Donkin, ERW Joinery – according to his company: "In the four years that Bailey has been with ERW, we have seen him grow to become not only an outstanding joiner but an integral part of our team. His ideas and innovativeness sets him apart from not just other apprentices, but many other time-served joiners."
Indira Esser-Dunbar, Sebastian Cox – according to her tutor at the Building Crafts College: "She has shown massive skill, knowledge and interest in the skill of joinery and all aspects involved with the process. This includes weekend courses in tree felling and timber conversion and drying techniques."
William Wragg, Tom Pearson & Sons Ltd – according to his company: "His attitude towards work is exemplary and his thirst for knowledge has led to him being trained up in our small family-run workshop to do most jobs including operating CNC machinery, assembling, spray finishing and fitting work on site."
Rising Star Award – Sponsored by the Timber Trade Federation
Carol Bruce, HR Manager at Allan Brothers– according to her company: "Her support of colleagues and guidance across the business has been pivotal to the success of a recent change transformation project."
Kenlee Harris, Office Sales Manager at Gowercroft Joinery – according to her company: "She has been instrumental in developing the administration role and the sales department to ensure it can keep pace with increased customer demand and expansions of the production facility."
Health & Safety Hero Award – Sponsored by CITB
GE Door Manufacturing Ltd – for its health & safety first culture to drive continuous improvement across its factory.
George Barnsdale – for setting challenging goals for its commercial installation team's on-site health and safety practice.
JELD-WEN (Stairs division) – for its employee engagement and training approach which has helped the company achieve 2,000 days without a lost time accident.
Process Efficiency Award – Sponsored by W20 Exhibition & the FIT Show
End to End IT Ltd – for integrateJS, its 'access everything anywhere' cloud-based business management system.
Stairways Midlands – for ESTA, its in-house software solution for streamlining work processes from point of enquiry to delivery.
West Port Timber Windows & Doors – for its fire door manufacturing project which focussed upon customer value by reducing waste.
Tickets for the BWF Annual Dinner & Awards are still available. To book, please download and complete the booking form and return to bookings@bwf.org.uk