Woodworking Careers: WOW I MADE THAT!
WOW I MADE THAT! is an education programme by the BWF. Oriented towards project-based learning, the programme is mapped to the national curriculum and associated design and technology qualifications.
The aim of WOW I MADE THAT! is to familiarise students with the wood and furniture industries through a programme of structured learning, researching and designing products and investigating a range of wood and furniture related different aspects. This includes sourcing raw materials through to producing finished products. Each project asks students to research and design a product, identifying the type of raw materials used, considering sustainable design and investigating production processes as well as showing their understanding of environmental issues.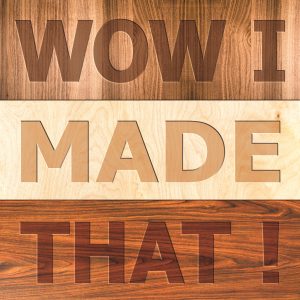 How you can use WOW I MADE THAT!
Developed for use in schools and colleges, WOW I MADE THAT! can form the basis of study in curriculum time or could be used to support extra-curricular activity, for example in STEM clubs.
Crucially the programme has been developed in line with National Curriculum Design and Technology (D&T) requirements in mind and national qualifications, designed to help teach parts of the appropriate examination specifications for GCSE and A Level Design and Technology. It is also ideally suited to use as a resource for teaching Level 1 and 2 Technical awards and Level 3 Applied General Qualifications in Construction, planning and the built environment.
Through use of a range of support materials, students will learn about the benefits of the various wood and furniture process available to successfully complete this industry-based programme.
WOW I MADE THAT! Resources
Teacher Scheme of Work – A comprehensive information pack to provide teachers with the tools necessary to deliver this programme. Click here to download pdf.
Teaching Aids – A number of hand-outs, worksheets and PowerPoints have been created to assist with the teaching of the programme. Click here to view teaching aids.
Student Workbook – This book will guide the student through the WOW I MADE THAT! programme. Click here to download pdf.