How does Woodworking CPD work?
You will need to log 30 hours each BWF CPD year, which runs from 1st August – 31st July. We have six categories which you can log hours against, and much of this you will probably already be doing, making reaching your 30 hours target easier that you might think.
CPD Categories
This diagram shows the 6 categories that are eligible for CPD hours: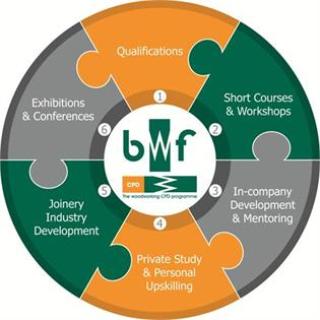 1. Qualifications: All qualifications such as S/NVQs and apprenticeships of level 2 and above, delivered by a government recognised educational institution.
Professionally recognised qualifications awarded by professional institutes or recognised trade bodies.
2. Short courses & workshops: Courses aimed at developing or refreshing joinery or business/role knowledge, delivered by external training providers. These may not necessarily lead to a qualification
Workshops that aim to share best practice etc with other professionals in your field of work
3. In-company development & mentoring: Training undertaken as part of a planned, in-company development scheme
Project work that helps develop the business
Mentoring subordinate workers to develop, engage in training, and undertake their own CPD
Promotion in your position
4. Private study and personal up-skilling: Any time you spend learning new skills and improving industry or job role knowledge
5. Joinery industry development: Any time you spend contributing to the development of the joinery industry as a whole through the BWF and its Schemes
Any time you spend contributing to industry initiatives outside of the BWF for joinery and woodworking
Contributing directly to industry Research & Development that is of benefit to the industry as a whole
6. Exhibitions and conferences: Attending large-scale events that will provide industry or job role related knowledge
Evidence for CPD accreditation
The diagram above different categories of activity that counts towards CPD accreditation and the table on page 6 of our CPD guide provides some examples and the evidence required. We do not require evidence from everybody, but we do conduct an audit of a proportion of applicants to ensure standards are adhered to. Therefore, it is advisable that you keep a record of evidence in case you are randomly selected for an audit. This will take place for every CPD applicant at least every three years.