Wood First and Wood First Plus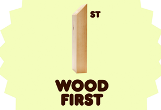 Trees from sustainably managed forests absorb carbon dioxide from the atmosphere and store it in wood and timber products thereafter. The result is an endlessly renewable process of harvesting and growing.
Timber products not only store sequestered carbon but require only very low energy inputs in production. Modern, engineered timber products can be used as replacements and alternatives to energy intensive materials such as steel and concrete.
Wood products have some of the best thermal performance properties of any mainstream construction material, so they can increase the energy efficiency and operational performance of buildings they are used in. Timber framed buildings are also often quicker to erect, saving on construction costs.
Increasing the demand for timber in construction, will increase the demand for sustainably managed forest cover, with all of the attendant economic, social and environmental benefits this brings.
BWF supports the campaign for a "Wood First" rule in planning guidance that requires wood to be considered, where feasible, as the primary construction material in all publicly funded newbuild and refurbishment projects, from housing to bridges to schools.
Find out more about Wood First
With timber the most sustainable mainstream construction material, and timber product manufacturers constantly innovating to meet the demands of the marketplace, it makes sense to have all the necessary tools and data to make choosing these products easier and more appealing. Wood First Plus – named after Wood for Good's "Wood First" campaign and designed to help support its objectives – is targeting three areas key to specification and design with timber